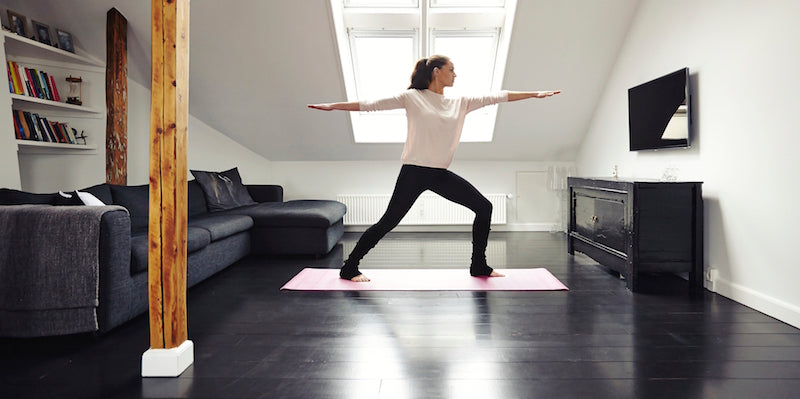 By: Bethany Barich (Follow on Instagram & Twitter)
Yoga is one of the most relaxing and beneficial forms of exercising today, but sadly, going to a yoga studio regularly can begin to wear on the bank account. Luckily, there's an app for that! Multiple ones to be exact, but the question is, are they worth it? Sometimes you'll find an app that's more than $.99 and it ends up being the worst thing ever.
Let's take a look at some of the best yoga apps out there right now that won't break your bank and are worth the purchase! If you prefer to do yoga by watching YouTube videos - check out the top 5 yoga channels on YouTube.
Here are the Top 5 Yoga Apps for iPhone:
The first app, Simply Yoga, offers both a free version of the app and a full version with more options. The perk to going with the free version is that it's a nice detailed way of getting into yoga. The free version offers three different workouts for beginners all based on time – 20, 40 and 60 minutes. The instructor is detailed on how to get from pose to pose. The differences between the free version and the full version, is that the full version allows you to access an entire new level of workouts all in the same minute span as the other. Along with that, you can also do custom routines and are given more poses to work with.
The free version goes through 30+ poses but the full has 60+. Both versions allow you to schedule when you'd like to practice, which sends notifications to your phone. There is relaxing music that's heard during the sequence – ocean noises, but if you're not into it, they can easily be turned off. The only major issue that might arise is how fast the pace of the sequence can seem – people familiar with yoga will like it but true beginners may not. It's up to you to decide. The full version of Simply Yoga is $3.99, but since there's a free option, test the app out and if you like, go for it and buy it.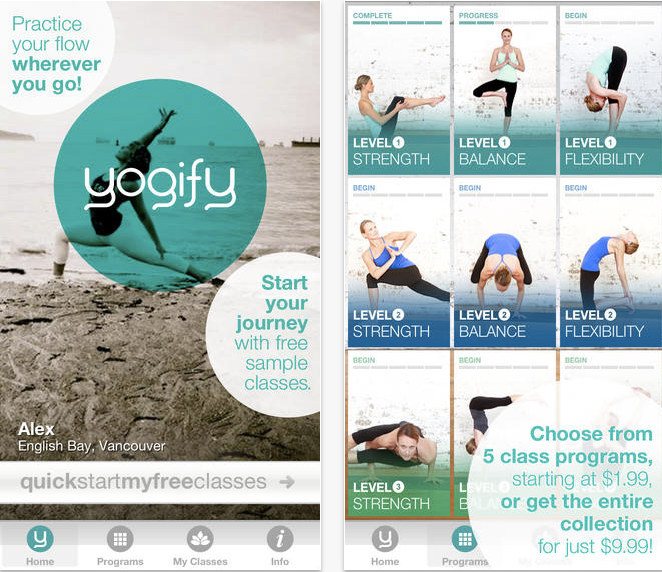 Like Simply Yoga, and a lot of others that'll be mentioned, Yogify offers the option of being free or purchasing more. With the free option, there are 3 levels offered – going from beginner to advance. The first level offers three videos and the last two levels offer only one. Some awesome things you get when purchasing packages with Yogify is 30+ hours of yoga put into 50 different videos. You get tips on how to get into the 270+ poses it offers and you get to connect to the Yogify community through social media! When you decide to upgrade there are three ways that you can go. Yogify offers programs. Meaning that there are beginner programs, all the way up to advance programs and each focuses on a different aspect of yoga – strength, balance and flexibility. Each of these programs costs $1.99. If you can't decide which program to purchase than get the entire level, which is a $3.99. Or, if you're still unsure, you can purchase the entire Yogify collection for $9.99, which is cheaper than some classes at a yoga studio. Some awesome things you get when purchasing packages with Yogify is 30+ hours of yoga put into 50 different videos. You get tips on how to get into the 270+ poses it offers and you get to connect to the Yogify community through social media!
Daily Yoga is an app that is very community based and offers an array of sessions and programs to choose from. There are three ways of having Daily Yoga too – the first is obviously the free version. Like all free versions of any app, it's a sampler. It offers some great programs to choose from on beginner levels plus more. You have the option to choose your length of practice too from 5 minutes to 45 minutes. The free version also offers a small yoga pose library. However, if you're looking for more and want to upgrade to PRO, there are two ways you can do it. First is becoming apart of the Daily Yoga community and registering with them. From there you'll have the option to pay (current prices on app) $29.99 per year or $5.99 per month. Each gives you different perks. Paying yearly you have access to all the sessions Yoga Daily offers and you get to experience all the new ones that are posted daily. With the monthly payment you get perks such as no ads during your videos, and you get to enjoy the music to choose from.
5 Minute Yoga is literally just that, five minutes of yoga. This is a free app that doesn't take "I don't have time for yoga" as an answer. Set a reminder for yourself and do the routines offered with this app. They're a great and quick way to start or end the day, or to do in the middle of the day during a lunch break! I would highly recommend upgrading and purchasing all the extra features, which is only $3.99. The features you'd get include: all and any new exercises, as well as changing difficult and getting reminders and having the option to add music if you desire!
With at least 24 hours worth of yoga classes that span from beginner to advance, and offers concentrations in strength, flexibility and balance, Yoga Studio is one of the best yoga apps out there. If you're interested in practicing all three focuses, they also offer combination classes. Their classes range from 10 minutes to 60 minutes. There are specific classes, like the other apps offer, for core strength and running, as well as nailing that backbend. One of the cooler benefits of having this app is you get to create your own classes with over 200 poses to choose from. Like the other apps, too, Yoga Studio allows you to set dates in your calendar for when you plan to have a yoga session. This app is personally my favorite and only cost $3.99.
Conclusion 
There's nothing stopping you but yourself, so way your options! Sometimes yoga classes aren't for everyone, if you're one of those people, look into these apps. You won't regret it. Plus you'll learn how to make your own sequences, which is always beneficial if you ever decide to have an impromptu yoga practice.
If you liked this article, check out 4 Easy Yoga Poses to Strengthen Your Core & Tighten Your Abs.