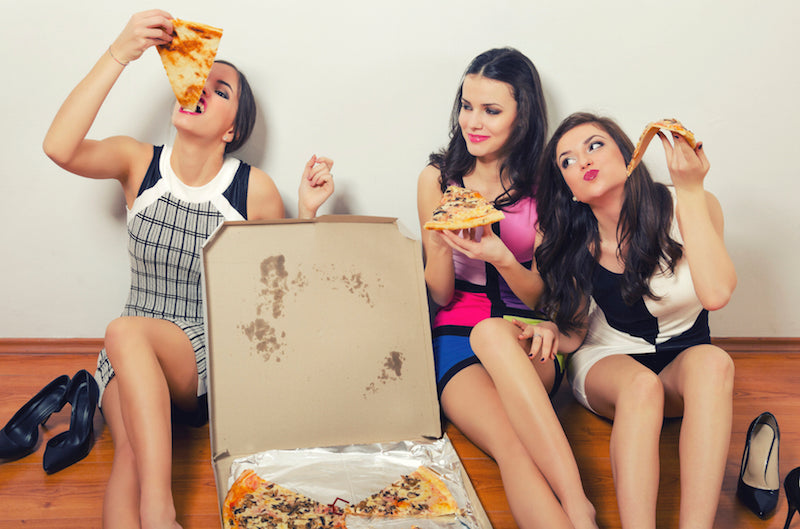 By: Bethany Barich (Follow on Instagram & Twitter) 
If you've never had to make a pit stop and eat at a fast food restaurant, consider yourself lucky. Not only is the entire menu appetizing at times, but also it's extremely unhealthy when eaten daily. Worry not because eating on the fly or at a rest stop can actually be healthy – if you know the right things to get.
A lot of fast food places actually carry decently healthy and low calorie meals. You just have to look in the right place and know what to pair them with. Let's take a look at what some of these fast food places have to offer, and remember, you're totally allowed to eat whatever you want – these are just some options to help out if you're looking to eat a bit healthier.
McDonald's
If you're in need of a quick lunch go to McDonald's and try out their Snack Wraps! Both the Chicken Ranch Snack Wrap and the Honey Mustard Snack Wrap are perfect options. Ask for grilled chicken instead of fried, and ask to have no dressing if you're looking to save calories. If you feel like that won't be fulfilling, look for healthy options to pair it with like a small fry or a fruit parfait!
Wendy's
Another great, and affordable place to go when in a hurry is Wendy's. Make sure, if you go, to check out their Large Chili paired with a Garden Side Salad. Opt for a reduced or fat free dressing for the salad, or don't get any dressing at all. Also, if you get the salad, pass on the croutons. Another healthy (and extremely yummy) option for Wendy's is their Ultimate Grilled Chicken Sandwich. It comes with honey mustard on it, which you can ask it without, and replace the fries on the side for some yummy fresh apple slices. 
Taco Bell
If you're like me, you love Taco Bell but you don't love that guilty feeling after eating three tacos. Luckily there are multiple options that aren't super packed with sodium and high on calories. The first is the Shredded Chicken Burrito. Keeping with the chicken, the next is a Fresco Chicken Soft Taco. After that it's a Fresco Steak Burrito Supreme. Taco Bell does allow you to ask for things removed so if you're not comfortable with sour cream or cheese, or other ingredients, ask them to remove it and enjoy your Taco Bell guilt free!
Burger King
Burger King is a nice option if you're looking for something that isn't too pricey. If you happen to stop at one get their Burger King Whopper Jr. Pack it with veggies and opt for no cheese and maybe try switching up the sauce to mustard or ketchup instead of mayonnaise. If you're a vegetarian, don't worry because Burger King also offers a Veggie Burger. Pair the sandwiches with apple slices instead of fries too.
In-N-Out
In-N-Out is burger heaven, but if you're trying to eat healthier there are options our there! Try out their Protein Style Cheeseburger With Onion. This specific burger has lettuce instead of a bun, which immediately helps with the carbohydrate count. Another yummy option is their Hamburger With Onion and Mustard and Ketchup. Ask for those sauces instead of what normally would come on their sandwiches – mustard normally doesn't have any calories and ketchup is substantially good in terms of the amount of calories it has. Make sure you get water instead of a shake and sadly, you may want to pass up the fries. 
Chik-Fil-A
Chik-Fil-A is one of the more healthier fast food places out there. They offer a lot of chicken and load their foods with fruits and veggies. Try their Chargrilled Chicken Cool Wrap. As someone who's previously had it, and loved it, it's a great and filling snack that doesn't make you feel bloated or guilty afterwards. They do come with sauce so if you're currently counting calories, you can choose to not have it. If you're looking for something bigger, try their Chicken Sandwich – it's just as delicious as the wrap and just as filling too. 
Panera Bread
Even though it's extremely delicious, it's also extremely tempting. Panera Bread offers a lot of healthy options but they also offer a lot of pastries that can catch the eye and make you sell your soul (okay, not really). The first thing you have to do if you want to eat healthier when eating out is to not get that .99-cent pastry item. If you do, go with a Shortbread Cookie or an Oatmeal Raisin Cookie. In terms of their actual meals, the Smoked Turkey Breast and Roasted Turkey and Avocado BLT are excellent choices and are okay to eat as the whole sandwich. To keep it healthy, have the baked chips instead of the regular or have an apple. Also check out their secret menu because they normally have a lot of great healthy options!
KFC
Hello fried chicken heaven! KFC is the place to go to if you're looking for an affordable, quick, and very fulfilling fried chicken dinner. Sadly fried chicken isn't that healthy but luckily KFC does offer grilled options. Check out the Kentucky Grilled Chicken Breast paired with mashed potatoes without gravy. Along with that, make sure you try out their 4 Hot Wings and pair that up with their corn. Don't be afraid to eat their fried chicken, though, because sometimes it's nice splurge 
Arby's
One of the more healthy options is found here at Arby's. It's the Roast Chicken Club Sandwich– the only major downfall of this sandwich is how high the sodium content is. If you're craving their classic roast beef, have the sandwich but the chicken is delicious. Skip the barbecue sauce and the curly fries and have a side salad instead. Speaking of salads – the Roast-Chicken Chopped Farmhouse Salad is another healthy lunch item. Get a fat-free or reduced dressing and maybe ask them not to put cheese on it.
Chipotle
One thing about Chipotle is how customized you can make all of your meals. Get the Build-Your Own Salad and skip the rice – instead, load it up with veggies and chicken and black beans and salsa. If you do want to splurge, get a light amount of sour cream and if you're willing to spend an extra dollar, get the guacamole. You can also add steak if you'd like some meat on the salad. Another option is the Vegetarian Burrito Bowl with the chili-corn salsa. If you're looking for tacos, try the 3 Barbacoa Tacos. Get them on soft corn tortillas with tomato salsa and lettuce and you're set. If you're looking for a yummy crunch, see if the Chipotle you're at offers the baby bag of chips.