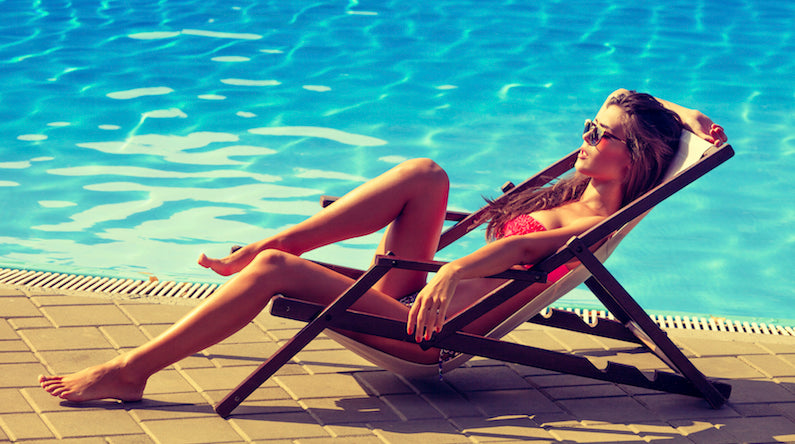 By: Bethany Barich (Follow on Instagram & Twitter) 
The sun may provide us with a lot of vitamin D, and being outdoors, in general, may provide a great feeling, but there can be a lot of harm that comes with an abundance of sun exposure without protection. To help slow down the aging process and reduce wrinkles, to help protect getting blotchiness and brown spots, and most importantly, to protect us from skin cancer, you must wear sunscreen. The higher the SPF (sun protection factor), the better – make sure it's at least 30 SPF.
Sunscreen comes in all shapes, sizes, brands and types. Some are extremely expensive and get the job done, some are cheap and get it done, and some are perfect for sensitive skin. There's so many out there, but we've narrowed it down to 7 different sunscreens that are perfect for different, or same, types of people.
If you're concerned about chemicals that some sunscreens might contain – look no further because Lavanila has a 100% natural sunscreen. This amazing cream not only is hydrating but it's also loaded with antioxidants to help keep you looking youthful. It's an ultra-sheer sunscreen so it won't feel heavy when being worn and provides are skin with protection and nourishment. Its SPF 40 will help keep those wrinkles, dark spots and burnt noses from happening. It is a bit on the pricey side coming in at $28.00, but it's worth it.
DeVita is a newer brand that are extremely natural – according to their site, they're 100% vegan, gluten sensitive, contain no GMO's and, even better, their products are not tested on animals. This sunscreen doubles as a moisturizer and is perfect for those who are sensitive to breaking out. This sunscreen absorbs super quickly, which means it perfect to wear under make-up. Like the previous sunscreen, this one also is high on the price range coming in at 25.95.
Aveeno is a beauty product that can be found at any drugstore, and is perfect for those who may have sensitive skin and enjoy natural ingredients. This sunscreen, not only is oil free, but it's also hypoallergenic and won't irritate the skin! This product is enriched with vitamins and will help moisturize the skin. Thanks to the broad spectrum SPF, our skin will be smooth and healthy after using this sunscreen. It's a product that can be bought for a nice price of $9.99. 
Specifically designed to help protect the skin and to not cause breakouts, especially for those with sensitive skin. This Neutrogena sunscreen has a broad spectrum SPF that will help keep you looking young and beautiful, all while keeping your skin clear and clean! This is a lightweight liquid that will not clog pores and will allow your skin to breathe! It's oil free, fragrance free and is water resistant for up to 80 minutes. Even nicer is that it can be found in almost all drugstores for $11.99.
Want to try something new? How about a makeup/sunscreen duo? Wear this like any other bareMinerals powder foundation but receive the benefits of a sunscreen – SPF 30 protection against sun damage and aging. For the most sensitive of skin, this is a lightweight and sheer powder. If you've got dry skin, just wear a moisturizer underneath. If you do have a bit of sun exposed skin, don't sweat it because this powder is infused with vitamins and Aloe Vera Extract, as well as antioxidants. This powder is grease free, it won't clog pores and will not cause breakouts. It's one of the pricier ones costing $28.00.
This sunscreen is actually recommended by the Skin Cancer Foundation, and for good reasons too. This sunscreen, with a tropical fragrance, is not only water resistant but it's so smooth when being apply. It has enhancements to help the skin radiant, be soft and get protected from the sun. The website offers the three available SPF options – 15, 30, and 50. This is non-greasy and oil free, and one of the more popular sunscreens out there. It's prices range from store to store, but it's cheapest price is at $6.92.
Without irritating your skin, this natural sunscreen will help protect your skin all while nourishing it too. Kiss My Face offers an oat protein formula that helps provide the broad-spectrum protection, and helps fight any signs of aging. This vegan friendly sunscreen is water resistant for up to 40 minutes. To help decrease not only sun damage, but also other environmental pollutants, this sunscreen has a lot of antioxidants. This product may sound like it's expensive but only cost roughly around $12.95.