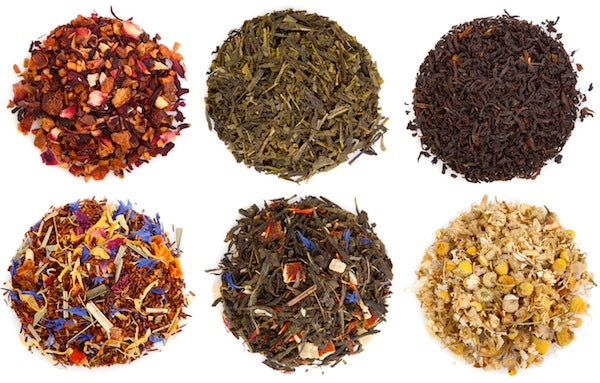 We're crazy about all types of tea, not just our own brand Skinny Teatox. We often get questions about tea in general, so we figured we should do a bit of a tea 101 to teach you about the different types of tea out there. 
Most tea comes from the camellia sinensis plant (green tea, white tea, oolong, black and pu'reh) and most of it is from China. These teas have been around for thousands of years and have a huge amount of positive health benefits. 
Here is a breakdown of some of the most popular different teas: 
Green Tea 
Green tea is the second most consumed drink in the world - only after water. Green teas do not all taste the same - from vegetal fired Chinese green teas to warm and buttery steam-heated Japanese green teas, there is a huge variety of delicious green teats to enjoy. 
White Tea
These teas are made from fresh, young silver leaves and buds. It's a delicate tea that's as close to the living plant as you can get. This tea is enjoyed for its light flavour and natural sweetness.
Oolong Tea
This tea is like half-black tea and half-white tea. The leaves are tightly rolled or twisted, and they slowly unravel in your cup. 
Black Tea
There are thousands of types of black teas out there. Our favourite is the woody Darjeeling that comes from Norther India. Lately, Kenya has been producing a lot of super rich breakfast teas that are worth checking out. 
Rooibos Tea
Not many people know that Rooibos doesn't come from the camellia sinensis plant, so it's not technically tea. It comes from the rooibos plant (makes sense), a small shrub that can only be found in a tiny region in South Africa. This is a caffeine-free drink that's naturally sweet, healthy as heck and is great at hydration.
Herbal Tea
Like the Rooibos herbal teas aren't made from the traditional 'tea plant' - in fact, you can make herbal tea out of just about anything. Orange peel, cranberry, mint, you name it.
Pu'erh Tea
The Chinese have been using Pu'erh tea to help with digestion for over 1,700 years. This isn't the most popular tea in North America, but it is starting to become more well known as more people try it.
Mate / Guayusa
This is South America's favourite drink. Also, not technically a tea, but it's a smooth drinking beverage that has been enjoyed for over 2,000 years. Also, it has a TON of energy boosting properties. 
Skinny Teatox
Our favorite type of tea, of course, is Skinny Teatox :-) Our cleansing tea is made using Senna Leaf which has been enjoyed for thousands of years.