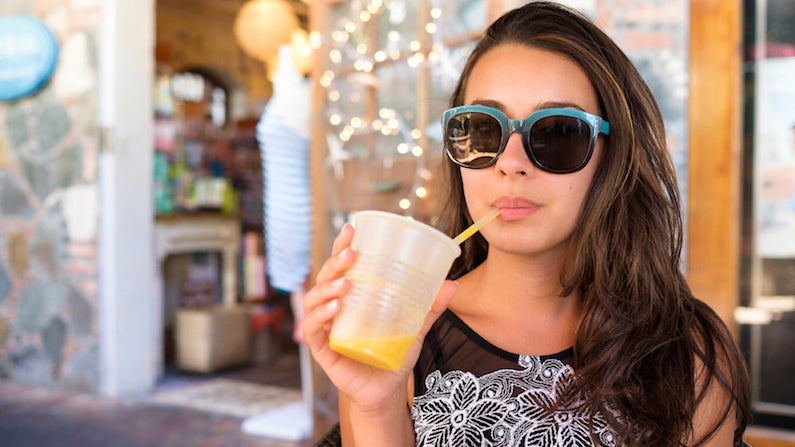 By: Laura Peill – (Check out her blog Chronicles of Passion & Facebook)  
Smoothies are a delicious, healthy option for breakfast and snack. They are loaded with nutrients and pack several doses of fruit and veggies in one serving. But are you taking your smoothies to their full potential? Is there something else you could add to make them even more nutritious for you? Have a look at this guide below and see how your smoothies measure up:
Always add greens – You won't be able to taste them, but you sure will benefit from their nutrition profile. I add at least a cup of spinach, and often more to all of my smoothies, and also supplement with greens powder. Together these both ensure that I get my daily dose of greens . That way, even if I don't eat as well as I planned during the rest of the day, at least I know I will get my greens for the day!
Choose your liquid carefully – It's easy to just add milk to your smoothies, but have you ever considered some other options? Not only are there more calorie efficient liquids to add, but also options that will give you greater nutrition value than milk will. For example, I often add kombucha or water kefir, and will use coconut water if I have it on hand, and especially if I have just gone for a long run and know I need to replenish my electrolytes. Another option is green tea or matcha tea, or even coffee if you know you will need an extra boost of energy. Coffee works great with banana, cherry, raw cacao, spinach and some maca powder for a delicious cherry mocha flavoured smoothie.
Add superfoods – With all the superfood powders available now that are loaded with lots of good stuff for your body, it's a great idea to get your hands on some different ones to try for your smoothies. Usually you can add the powder and not have it impact the taste of the smoothie while still getting the great health benefits. If you need some help on trying to decide which ones to add, have a look at this post on superfood powders and the benefits they have on your health.
Be bold with your flavours – Having the same smoothie every day can get pretty boring, so don't be afraid to mix it up a little. Change up your flavor, experiment with new ingredients, or switch between a smoothie and a smoothie bowl. Think of the flavours of things you already like – such as apple pie, or blueberry muffins – and recreate those in a healthy smoothie form.   You may be surprised at what you come up with, and you may find your new favourite smoothie flavor! 
Choose frozen fruits – This may be just a personal preference, but if you're anything like me, warm smoothies just don't cut it. I like mine ice cold, and even thick and creamy like a milkshake is fine with me! If you're in the same boat, consider using frozen fruit instead of fresh. Sometimes by the time fresh fruit gets blended around for a while, even if it was in the fridge before you started, it all ends up a warm soupy mess. Instead, starting with frozen guarantees your smoothie to be cold and also helps thicken it up.   I usually buy fresh fruit, eat whatever I want fresh and then freeze the leftovers or freeze the fruit when it gets too ripe or bruised.
Inspired yet? Put these ideas to use and make a smoothie for your next breakfast or snack. The flavor possibilities are endless so you better start blending!