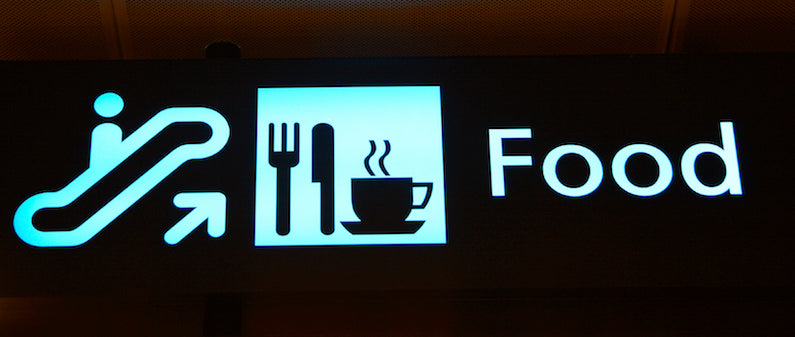 By: Bethany Barich (Follow on Instagram & Twitter) 
We've all been there – we go to the airport, get through the security and are by our gate. Then, out of nowhere, we get hungry but we realize there isn't much healthy food available.
There's the option of going to the stores, but what does someone get when they're there?
Luckily we've comprised a list of some of the healthier places to go and some of the healthy options to grab!
Starbucks
Literally almost every airport will have at least one Starbucks. Starbucks offers low calorie snacks and packaged meals that won't break the bank and will keep you full for a few hours. Their coffees are all less than 10 calories, before you add sugars and milks. If you're having nerves, grab a tea! Some options in terms of food include a Farmer's Market Salad, a Ham & Swiss Sandwich, as well as their low-fat loafs and Coffee Cake (my personal favorite).
Au Bon Pain
If you're on the go, Au Bon Pain is essential. Also located at most international airports, Au Bon Pain is going to be serving up a lot of excellent meals. Their Grilled Chicken Caesar Asiago is fantastic. Their Turkey Sandwich on a Baguette is also a great option if you're looking for some carbohydrates. They also have delicious soups and fruits to choose from. 
Jamba Juice
Another popular place, Jamba Juice is obviously an excellent source for juices! They also carry food products like a Chimichurri Chicken Wrap and salads. If you find yourself having an early morning flight, they do offer oatmeal too! Yummy smoothie options include Banana Berry, Peach Pleasure, and Aloha Pineapple!
Other Options
If you don't want to go to any of the options above, there are always those little corner shops throughout airports. Grab some Sabra Hummus packs that come with pretzels. Those contain healthy fats, are great for getting your dose of carbohydrates and protein, plus, they taste delicious! There are many options too, from their original hummus to roasted red pepper, you can never be upset with what you get.
Other options include getting protein bars! Kind Bars, Luna Bars, or Cliff Bars are all great options. They're extremely filling and definitely supply you with energy and other nutrients needed. They all come in an array of flavors and usually don't break the bank either.
 An obvious option also includes fruits and veggie packs, or the fresh fruits. An easy and cheap way to get your nutrients, flavor and not a lot of trash! If you do have a sweet tooth, don't feel guilty for caving in and buying a chocolate bar or M&Ms, just make sure you're proportioning out your snack. By proportioning it out, you not only are keeping yourself from having too many artificial flavors and such, but you're saving more for later too.