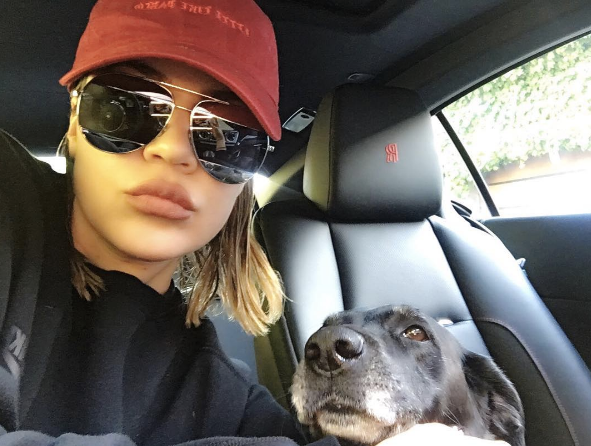 Photo: Khloe Kardashian Instagram
I decided that it would be really fun to live a bit like Khloé Kardashian for five days, and then document it.
I love makeup so much, and like Khloé, I am constantly at the gym. I'm also pretty active on social media, running my fitness blog, Twitter, fitness Instagram, personal Instagram, and Facebook page. I thought it would be super fun to kick it all up a notch; I mean, who wouldn't want to glam it up for a few days?
Day One as 

Khloé Kardashian

I figured there wouldn't be any better way to start my five days of glam than on my 22nd birthday! My birthday was unfortunately on Monday the 18th (I hate Mondays) but upping the glam definitely remedied that. I got up a little extra early so that I could spend extra time making sure that my makeup was on point. Usually I only take ten minutes to do my foundation, brows, mascara, and sometimes a light contour/highlight. Not today! I took about half an hour to make sure my foundation, contour, blush, highlight, brows, eyeshadow, lashes, and lipstick were all top notch. I tossed on a pretty sundress, slapped on my Ray Ban sunglasses, and hit the road to go to campus.

I kicked off the day with an intense leg/booty workout with my CrushFit Crush60 program, took some locker room selfies, cleaned up, took some more selfies, and went to my classes.

After that, I hit Starbucks for a GIANT iced coffee, some studying, and then patient waiting for my boyfriend to get home so that we could go out to my birthday dinner.

We went to the best Japanese restaurant that our town has to offer, and had some delicious spicy miso ramen, eel avocado rolls, and spicy salmon avocado rolls. In perfect Khloé fashion, I had to snap some pics of my delicious meal because even though I'm already fairly active on social media, I knew I'd have to up my activity level a little bit. 
Day Two as 

Khloé Kardashian

I was super excited for this day. I had scheduled with my favorite salon, Looks Hair Design, to get my hair re-colored, my eyebrows and lip waxed, and to get a super relaxing spa pedi. My fave nail artist and waxing specialist Sara (different than Sarah who works her magic on my hair) kindly ripped off my lip and eyebrows for me before Sarah got ahold of my hair so that the wax-induced redness would fade in time to take selfies with my newly colored hair. No, I didn't get the gorgeous caramel colored hair that Khloé has; I got my cherry red touched up. BUT, Sarah and I thought it would be super fun to try out Khloé's signature Dutch braid pigtails with some help from Bri.

After my hair was Khloéfied, I headed over to the pedicure chairs for some much needed relaxation and catching up with Sara. Before even beginning, we had already decided on a really pretty Tiffany-inspired blue, silver, and white polish scheme. My toes looked like they were ready for a party after Sara was done with them!
Day Three as 

Khloé Kardashian

Hump day! I started again with the gym, this time biking a 5K and a half and then working chest/shoulders. I had on one of my favorite colorful workout outfits, and had to take a Khloé-esque booty selfie (buttfie?). After crushing it in the gym while still rocking my braided pigtails (which are the best at keeping your hair out of your face at the gym), I went to my classes and called it a day. 
Day Four as 

Khloé Kardashian

Thursday night I hit the town with my boyfriend and a bunch of friends to celebrate mine and another friend's birthdays! I had taken out the lower parts of my braids so that while the top would still be braided, the rest of my hair would be beautifully wavy and free! I spent even more time on my makeup than earlier in the week. I used my Urban Decay Naked 3 palette for a neutral smokey eye, Bare Minerals, Estee Lauder, and Benefit products to help me with my contour/blush/highlight, Urban Decay Perversion mascara, and Stila Stay All Day Liquid Lipstick in Aria for a bold deep berry lip.

We started out on the patio of a local bar that is famous for its pitchers of flavored Long Islands before moving on to a more upbeat bar.   There were a ton of pictures and Snapchat videos going on, because let's face it, pictures or it didn't happen.
Day Five as 

Khloé Kardashian

By the time Friday rolled around, I was EXHAUSTED!! I'd been getting less sleep since I had to get up extra early to do my hair and full makeup (instead of being able to sleep in a makeup chair while my glam team fixes me up like Khloé can), and it was actually a little taxing to be more active on social media than I already was. I still woke up a little early to fully make up my face, pic out a cute (but still gym functional) outfit, and head to lunch with a good friend. By the end of the day, I was wiped. I hopped into my bed (which sadly probably isn't as plush as Khloé's) and took a much needed beauty sleep session.

I'm not going to lie, even though this last five days were exhausting, I did enjoy the extra glam. I even learned something (besides how great those Dutch braids are) during my time living like Khloé. Happiness is key. Whether you're taking selfies of your bomb makeup, your awesome gym outfit (and gym progress!), or snapping pics of what you're doing with your friends, doing what makes YOU happy is the most important thing. Life is so short and unpredictable, so you should live it to the fullest and document what makes you happy.

By: Kayla Harwick