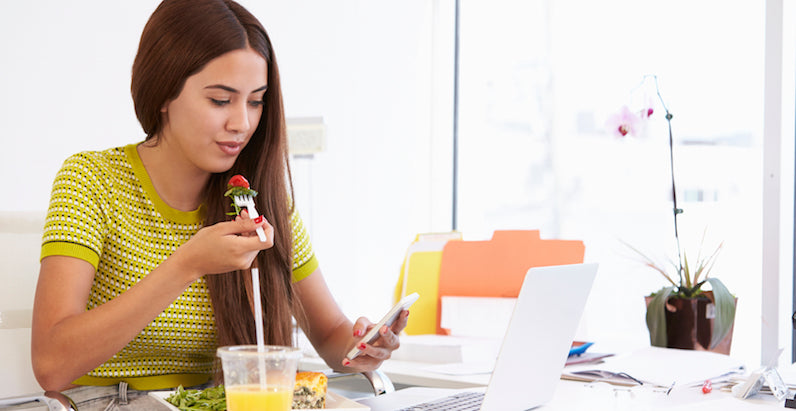 By: Bethany Barich (Follow on Instagram & Twitter) 
Somewhere between those 9-5 jobs, a lunch break is needed. Something quick and easy is normally the first option – but it's not always the healthiest. It may seem easy to just stroll down the street and grab a quick meal made from a fast food restaurant. Even though you may feel full by the end of the meal, those nutrients you need to keep your energy up for the rest of your shift aren't there. 
Not only will you be lacking in energy and nutrition, but you'll also be spending an unnecessary amount of money.
According to Daily Mail, the average American will spend at least $1,200 per meal at fast food places. After doing a study with 1,000 adults, they also found out that people will head into those restaurants at least once a week, and will spend roughly $12.50 per meal.
So save your money, and help your body with these healthy lunch options that you can prep at home and keep sealed until your break.
Southwest Quinoa with Black Beans and Mango Medley
The recipe can be found via Skinny Taste and is only about 164 calories per serving! If you want to get a big kick of protein, try adding chicken. 
Turkey Chili Taco Soup
Also from Skinny Taste, this delicious looking recipe is only about 200 calories per serving, and is perfect for any cold day.
Lemony Couscous Salad
The calories to this recipe are unknown, but Mirch Masala makes this meal look absolutely delicious.
Lebanese Lemon-Parsley Bean Salad
COOKIE + kate supplies this yummy recipe that is packed with fiber thanks to the beans and chickpeas. The entire recipe that's posted makes roughly six servings, and each serving is a cup. The salad is both gluten, and vegan free too!
Peach Caprese Salad
Putting a little twist to the classic Caprese Salad, this recipe via Iowa Girl Eats, sounds fantastic. Prepping this meal before work is super simple. Plus peaches have fantastic benefits to help cleanse the body, and keep your skin and body healthy.
Triple Berry Summer Salad
Summer may be coming to an end, but this salad recipe provided by Iowa Girl Eats can last until the fruits required are not in season anymore. Packed with nutrients, this is a lunch that will keep you energized throughout the day and give you a healthy and happy full feeling.
Turkey, Avocado and Hummus Wrap
Paired with a side of fruit, this is the perfect and yummiest lunch ever. The recipe, once again, is supplied by Iowa Girl Eats. Turkey is a great source of protein, so you're sure to get a fix of energy after this meal.
Skinny Pizza Wrap
First off, who doesn't love pizza? Having any chance to eat it is fantastic, so thank you Skinny Mom for providing us with one. This recipe is simple and quick to make, and even better, it's only 255 calories.
Tuna Wrap
A classic tuna wrap had to be included in this list. Bumble Bee supplies a recipe for a delicious, and quick, lunch. Their recipe totals at 430 calories, but you can mix and match what veggies you want to add to the wrap, which will eventually make the calories change.
Avocado, Egg and English Muffin Sandwich
COOKIE + kate
supplies our last, and a personal favorite, lunch option. This does require frying an egg, so if you don't mind consuming a rather cold egg, then that's fine. You can always opt to make this meal at work if pots and pans are supplied too. This meal is packed with protein too, so you're sure to be full and energi