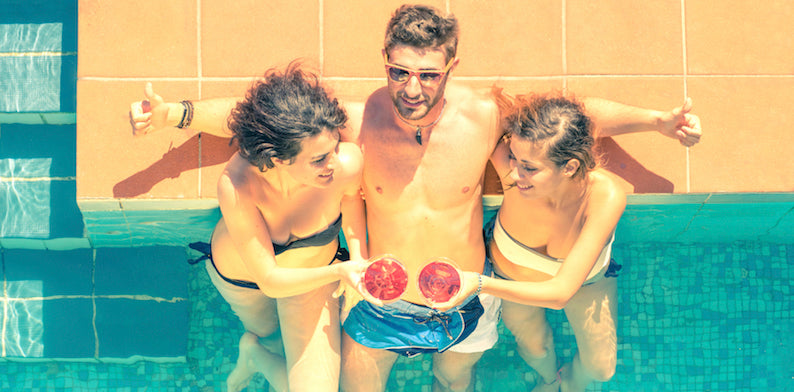 By: Bethany Barich (Follow on Instagram & Twitter) 
Beer is a great thirst quencher in the summer, but  what isn't excellent is a beer gut. And it's not just beer you have to watch for. Sadly, most delicious, alcoholic beverages are not good for our waist.
The average shot of rum is roughly around 100 calories, pairing that with diet coke is always a great choice. However, sometimes getting the same thing when going out with friends is boring.
To help fight that, and to try something new, here are six options, or recipes, that are worth branching out to try:
Mojito
First off, I understand that the mojitos are made with sugar – don't be afraid, though, because you can easily request for a tiny bit of syrup. Plus, you can always opt to eliminate sugar altogether. A nice recipe to try out is one called the Skinny Sake Mojito. All it requires is normal ingredients – lime, mint, club soda, and then calls for Stevia (hello zero calorie sweetener!) and, obviously, sake. If you're unsure of what sake is, it's a rice wine that originated from Japan. It's brewed not like wine normally is, but how beer normally is done. If you don't have sake on hand (which is understandable), you can replace it with a shot of rum.
Spritzers
The options are endless when it comes to making spritzers. The classic is made usually with white wine and club soda – but there are so many recipes out there that can add flavor without adding calories. Shape has an excellent article where they give low calorie recipes (the Apricot Pop looks and sounds delicious!). For more recipes to try out Buzzfeed also has a great article filled with gorgeous looking, and sounding, refreshers – please try the Spiked Strawberry Lemonade. 
Martini
Shaken, not stirred. The martini, which is gin and vermouth, a wine that's been aromatized, that are combined into a lovely looking glass. Totally Beauty has a delicate looking martini that is pineapple flavored. Another place to look for some healthy and yummy recipes is Beauty Bean, which offers an Espresso Martini and something called a Bitter Sweet Gimlet. Like spritzers, martinis can have unlimited options, and are perfect for a fancy dinner, or simply a night alone.
Mudslide
What is a mudslide? It's a excellent mix of vodka, Kahlua and Bailey's Irish Cream. It's amazing for warm weather because it's a frozen drink. The name of it, and look, makes it seem like it could set someone back a few calories, but rest assured, there are healthy ways of keeping it low. An adorable blog called And They Cooked Happily Ever After has a great "skinny" recipe for this classic alcoholic drink. Total Beauty supplies another great recipe, this time a Vegan Mudslide – thanks to the use of almond milk instead of regular or low fat. 
Margarita
Love tequila but hate how fattening margaritas can be due to the calorie count? Look no further because healthy options are on the way. Health supplies a delicious sounding recipe that is less than 300 calories –a "skinny" option by Bethenny Frankel. The second recipe to offer you is a strawberry margarita provided by My Recipes – by using real fruits you're providing your body with fiber! They also provide another recipe that sounds absolutely perfect for a hot summer day.
Daiquiri
Made with rum, sweeteners and other citrus flavors, daiquiris are so delicious, but can be so unhealthy. A great recipe to try out for the classic strawberry flavor is one provided by Food Network, or you can try out a recipe from Eating Well that combines the classic strawberry daiquiri with coconut – bonus fact about the last recipe is that it's less than 115 calories!