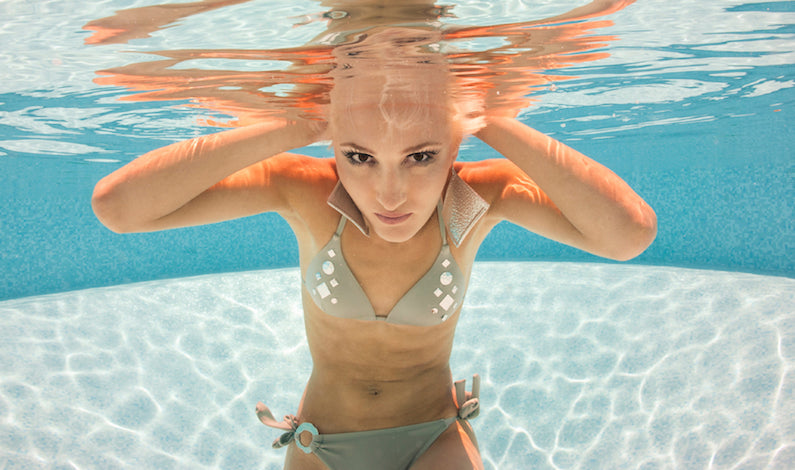 Sometimes snacking gets a bad rap. It's an extra dose of calories or sugary, processed foods that we don't need and that are sabotaging our weight loss efforts... not idea for bikini season.
But not all snacks are bad. There are plenty of super healthy, delicious and filling snacks that won't keep you from getting that hot beach bod.
Snacking can actually play a positive role in helping you with your health goals and can help keep your blood sugar in check so you don't overeat at your next meal.
Next time you find yourself hungry in the middle of the afternoon, embrace the opportunity to nourish your body with one of these healthy snacks:
1. Fruit Salad – The more colour and variety the better! Every couple of days, I chop up a bunch of different fruits that I have on hand and put it in a big container in the fridge. Whenever I get hungry or need a quick breakfast, there's pre cut fruit waiting for me that is quick and easy and I'm not tempted to reach for any other less healthy snack alternative.
2. Avocado – You can squeeze on some lemon juice and add a little salt if you prefer, or mash it up with some chickpeas, but really, it's great just naked, all by itself. Avocado is a great source of healthy monounsaturated fat, which helps us feel full and raises the levels of healthy fats in our body. It's smooth, creamy texture is very satisfying and at the perfect ripeness is the best to eat with a spoon straight off the skin!
3. Apples and Almond Butter – If you've never had fruit slathered almond butter, you're missing out. Apples and bananas are my favourite, but give it a try with pears and peaches as well. This snack offers a good balance of protein, carbs and healthy fats and helps contribute to your five daily servings of fruit and vegetables. 
4. Carrot Sticks and Hummus – Made from ground up chickpeas, hummus is an excellent source of protein and leaves you feeling full and satisfied as a mid afternoon snack. Furthermore, eating it with veggies means it is a low carb option without any excess sugar that may lead to a spike in your blood sugar and send you crashing later. A great balanced snack that will tide you over until dinner time! 
5. Almonds (or other nuts) – Nuts are a great go to for a quick and easy snack. They are high in healthy fats and protein, two things that help us feel full and satisfied and that are part of a healthy balanced lifestyle. Furthermore, consuming healthy fats plays a role in aiding in weight loss. 
6. Energy bites, bars and balls – You've probably seen lots of recipes for energy balls, bars and bites, and seen even more premade ones in the store. They are usually a combination of nuts and seeds, protein and dates or other dried fruit. Making them yourself is always best because then you know what is in them and you don't have to worry about any nasty processed ingredients or high levels of sugar. And when they are made with whole, nutrient rich ingredients, they can be a great source of protein and a filling snack to get you through whatever life throws at you. Many of them can even stand in as good post workout refuel and help in muscle recovery. 
7. Home Made Banana Softserve – One of my personal faves, you can't complain about having your ice cream and eating it too! Make this snack from just frozen fruit like bananas, strawberries or cherries, and it's a great refreshing summer snack option without all the calories of its traditional counterpart. Have some fun and play around with the flavours, adding cacao to make it chocolate, or vanilla bean for a tasty vanilla ice cream.
8. Smoothies – I'm a big fan of green smoothies for breakfast, but they also make a great afternoon snack, especially as a post gym recovery option. I always load them up with spinach, superfood powders and greens powder, throw in some frozen fruit and it's all your nutrition, protein and energy packed into one handy cup. Mix up your flavours and fruit combinations so things don't get boring and add in some hemp hearts for an extra dose of protein or cacao for a chocolaty delight!
9. Celery Sticks with Peanut Butter – If apples are good with almond butter, celery is good with peanut butter. Go back to your childhood days and add raisins on top if you like and enjoy some ants on a log. Just like carrots and hummus, this snack option is high in protein, low in carbs and lets you get another serving of vegetables and fruit for the day.
10. Date with Nut Butter – This is a little mini snack that is great if you're craving something sweet and need a little treat. The date is a great source of quick energy, while the nut butter is high in protein and provides the lasting power you need from a snack. Spread 2 or 3 dates with almond butter, sunbutter or cashew butter and enjoy!
By: Laura Peill – (Check out her blog Chronicles of Passion & Facebook)