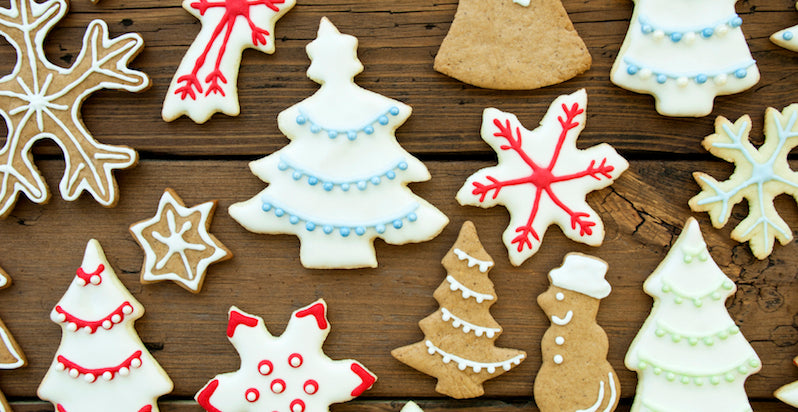 By: Laura Peill – (Check out her blog Chronicles of Passion & Facebook)   
With the holidays approaching, all I can think about is all the baking I want to do. From cookies to gingerbread, to fruitcake to all things chocolate, being in the kitchen is definitely one of my favourite things about the lead up to Christmas. This year, don't let your weight loss goals deter you from enjoying (and making) all your favorite holiday treats. Instead, try some of these substitutions and alterations and you'll never know the difference!
Butter for Coconut Oil
Butter and coconut oil have similar properties: they are both solid at room temperature, can be melted and creamed, and both are a fat. As a result, coconut oil is a good substitute in baked goods requiring these properties such as cakes and cookies. Coconut oil is also a source of healthy fats and aids in digestion.
Swap sweetened cocoa for raw cacao
While you may have to adjust the amount of sweetener in your recipe (see below), you will be gaining incredible antioxidant benefits from the raw cacao and have much better control over how much extra sweetener is added to your chocolaty delight!
Swap whole-wheat flour for plain flour
A simple substitution, this will at least ensure that your treat is whole grain and not simply a refined carb that will spike your blood sugar and have you craving more in 30 minutes!
Swap flax eggs for regular eggs
Flax eggs, made from combining 1 tbsp. ground flax with 2 tbsp. water are a great binding agent and can be used in recipes like breads, muffins and cakes when you just need the egg to help hold the ingredients together. Be aware that they may have different results in cookies or in products where the egg is used to help add fluffiness and airiness to the product, like meringues (flax eggs don't work for meringues!), or cookies.
Use applesauce or pumpkin puree for extra moisture
Instead of adding extra oil, milk or melted butter to your cake and quickbreads to keep them moist, sub some of the former with applesauce or pumpkin puree. When used in small amounts neither will change the flavor, but the results will be big on moisture and big on health!
Find a better sugar option
When ever you see a recipe call for granulated sugar, or white sugar, a red flag should go up. These are other words for refined sugar, and although fine a few times over the holidays, you want to try to avoid it as much as possible. There are a host of other options that, while still sugar, are much better than their refined counterpart. Some ideas include coconut sugar, raw honey, maple syrup, date syrup, or pureed dates, pureed banana and yacon syrup. Obviously depends on what you are making, as some substitutions won't be appropriate (i.e. don't substitute pureed banana for the sugar in your gingerbread men), but where you can, try to come up with a better alternative.