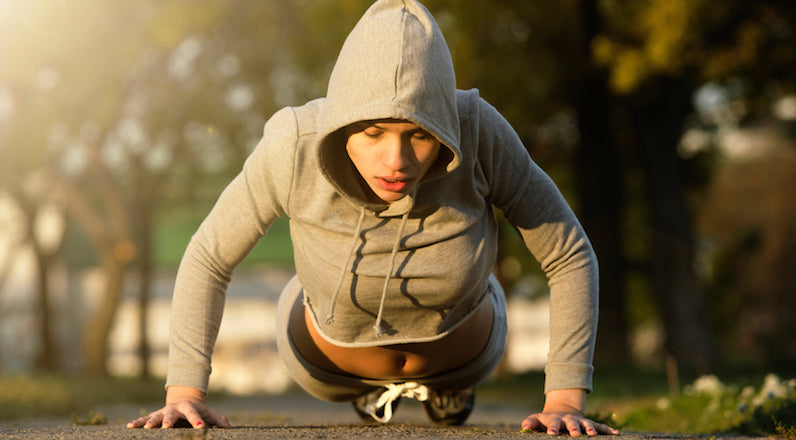 By: Laura Peill – (Check out her blog Chronicles of Passion & Facebook)    
If you're going to be spending any amount of time at the gym, running or working out, you owe it to yourself to invest in some good workout clothes.
And if you have spent any amount of time working out in cotton, you already know what I'm talking about. You've experienced the whole, every thing sticking to you and feeling like you're wearing a soaking wet shirt around the gym (and for hours afterwards) thing.
But just like phone technology has improved, so has fabric and clothing technology. And there are people out there who work to make the best fabrics possible so we can have the best workout.
Here's what you need to know:
Decide on your style preferences – Are you a shorts and tank top kind of person? Shorts and t-shirt? Girls, maybe you like the crops route and a tank top or t-shirt. Think about the options, try some on and see what you prefer. Put yourself in the head space of the gym, where it's probably hot, there's other people around etc. Or, if you're a runner, adjust accordingly for that – maybe it's cold, and you'll be out all by yourself!
Consider what you will be using them for – When I buy workout clothes, my main reason is for running. I still need clothes for the gym, but running clothes can usually double as both. But when it comes to running, there's a lot of other things to consider like whether it's warm enough for my Canadian winter runs, does it have a place for me to put my keys, and is it going to be comfortable when I'm wearing it for upwards of 30km? Different activities require different clothes and it's important to buy accordingly.
Find good fabrics – many stores will offer workout clothes that are made from cheap moisture wicking fabric. This translates to clothes that don't stand up to keeping you cool and dry in sweaty gym sessions. Good workout clothes, with quality, performing fabric are expensive. Be prepared for it. If you pay the money, you'll be getting a good product in return that will be like an investment – it will last a long time and perform well for you and you won't have to buy another one for a while. Some of my running stuff is 5 or 6 years old, because I bought good quality and looked after it. Speaking of which, wash your sports clothes in cold water all together – no cottons allowed! Don't use fabric softener, and avoid the dryer. Just hang or lay flat to dry.
Try stuff on – The single most important thing you can do to help in your search for good workout clothes is try them on. Go to the store, find a whole bunch of different tops and bottoms for working out and just start trying them. You won't know until you put them on, whether they fit you right, are too short, too tight etc. There's nothing worse than ending up buying a shirt that is too tight and rides up all the time. Or shorts that dig in at the waistband. And don't be afraid to ask for opinions! Either before you go, and ask your friends for what their favourite brands/styles are, or there in the fitting room, where you can speak to the person who works there and who should be able to give you more specifics about the product.
Shop around – In the world of workout clothes, a tank top isn't just a tank top. Do you want mesh in it? Built in bra or no built in bra? A pocket for your phone/keys etc.? Thick straps or thin? Low cut or high coverage? Although these things may not be as big of a deal when you go pick out a tank top to wear to work, these are all important things to consider when you are going to be working out in it. Girls, you have to consider how much support you need, and how much coverage, you have to take into consideration chafing and how tight it is. And then, whether it will hold up and stay that tight when it's all wet and sweaty, or it tends to bag out. Be specific in what you want and then shop around until you find it. There are so many different options out there, and there is no need to settle for something or buy something you won't be comfortable in.