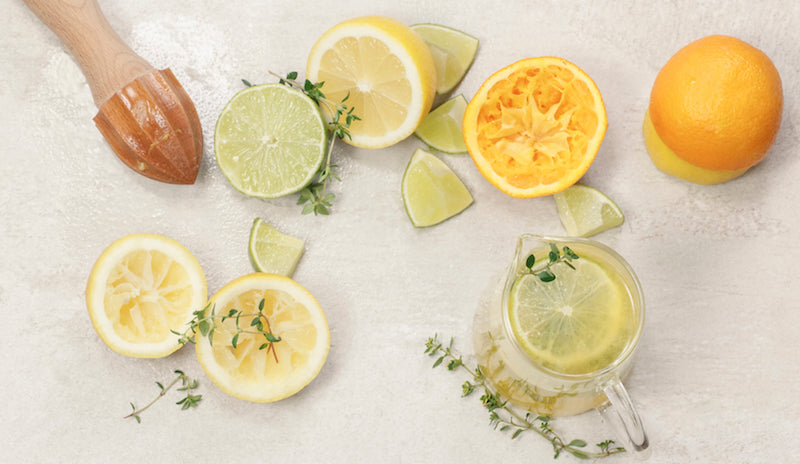 By: Bethany Barich (Follow on Instagram & Twitter) 
Summer may slowly be coming to a close but that doesn't mean the fruity recipes have to go too. 95% of vitamins and other nutrients our bodies need are found in the juices of fruits and vegetables. By drinking the juices of those raw foods, we're allowing those nutrients enter our body and our bloodstream quicker than if they were ingested in their whole form. 
You can mix and match as much as you like when it comes to juicing, which I personally think is the cool thing about it. If you're someone who's afraid of doing that due to the fact that the flavors may not compliment each other, and the juice can end up looking and tasting disgusting, no worries because below we've got 10 recipes that are sure to make your taste buds happy. 
Green Apple Juice 
This recipe provided by Eating Well calls for spinach but if that doesn't sit well with you, try replacing it with some kale instead. This healthy recipe is a great option because it's loaded with nutrients like calcium and vitamins A and C, plus it's gluten free and extremely low in carbohydrates. Another really nice thing is that the website provides a way of making this drink without a juicer!
Green Lemonade
Refreshing and healthy, what more could one ask for? This recipe provided by NRI calls for kale, but like stated in the first recipe, if you're not a fan switch it out for something green that you do like – like spinach! This recipe serves 1, but if you're looking to make more all you have to do is double up the ingredients. This juicing recipe will help with digestion issues and is packed with nutrients.
Total Health Booster
One of two recipes to be supplied by Health, this recipe is perfect for helping build up our bones and reduce aging! This yummy drink doesn't break our calorie limit either – it's less than 200. Along with that, it's a fruity cocktail that only requires roughly three ingredients, and is also able to be made through a blender. 
Antioxidant Supreme
This is the second recipe provided by Health, and it's a yummy one. Also weighing in with less than 200 calories, this anti-aging juice has an extensive list of benefits thanks to its ingredients. Blueberries, strawberries are both packed with vitamins and antioxidants. The mango adds hints of flavor too, all while adding regulating weight loss and helping with diabetes and fighting cancer. Like the previous Health recipe, this one discusses using a blender instead of a juicer.
Cranberry Juice
Packed with vitamin C and E, fiber, and only are 25 calories per serving, cranberries make up the majority of this next recipe given to us by Taste of Home. The recipe does not require a juicer or blender, but instructs us to boil the cranberries. It's a recipe that will make 8 servings, so if you're looking to not have a pitcher full of cranberry juice, simply cut the ingredients in half. If you're not a fan of cranberries, or are weary to try this drink – think of all the amazing benefits of cranberries and know that you can add as much Stevia to the recipe as you desire. 
Spinach and Cucumber
The Healthy Family and Home is a cute blog that offers a lot of nice things from healthy recipes, to detoxes and so on – but more importantly they offer this delicious recipe that only requires four ingredients! The article for the recipe is adorable because it starts off with listing benefits of each ingredient – states how spinach is great for cardiovascular health, cucumbers help with weight loss, celery lowers cholesterol and lemons balance blood sugar. Plus a big bonus is that the pictures provided are so well taken that they make you thirsty just looking at them.
Pink Juice
First off, how cool of a blog name is This Rawsome Vegan Life? Extremely. The color of this juice is so beautiful that maybe making it and drinking it will be both sad and refreshing. This juice recipe is sure to bring light to your life because of how beneficial some of the ingredients are. One of the ingredients, beets, is beneficial because it's a cancer fighting veggie, as well as a booster for our stamina. Other ingredients such as oranges are filled with vitamin C and cucumbers, which are the biggest helper when trying to lose weight. 
"Holy Grale"
First off, the name of this juice is fantastic – a nice play on words that makes for a great reference to Monty Python. This recipe provided by The Blender Girl is 100% raw, and originally is a video. I don't need to repeat the benefits of kale, because there's so many but the benefits of grapes are worth mentioning – they protect our hearts, aid in weight loss, they improve brain power, and the best one is they protect our bodies from certain cancers. 
Green Watermelon
So Let's Hangout provides gorgeous pictures and a nice commentary to this recipe that calls for a juicer but could successfully be done in a blender. The author, Gina, suggests drinking the juice within 48 hours and to seal it in an airtight container. Watermelon is mainly made of water, which is one of the biggest benefits of the fruit, the recipe also has celery and cucumber – combining those three is making one heck of a weight loss drink.
Minty Grapefruit
This one serving juice is provided by What Runs Lori, and is an easy recipe to follow. Packed with fruits and veggies that are amazing for our bodies, you're sure to feel energized and happy after drinking this. The blog says to juice the ingredients but a blender could be used as well!