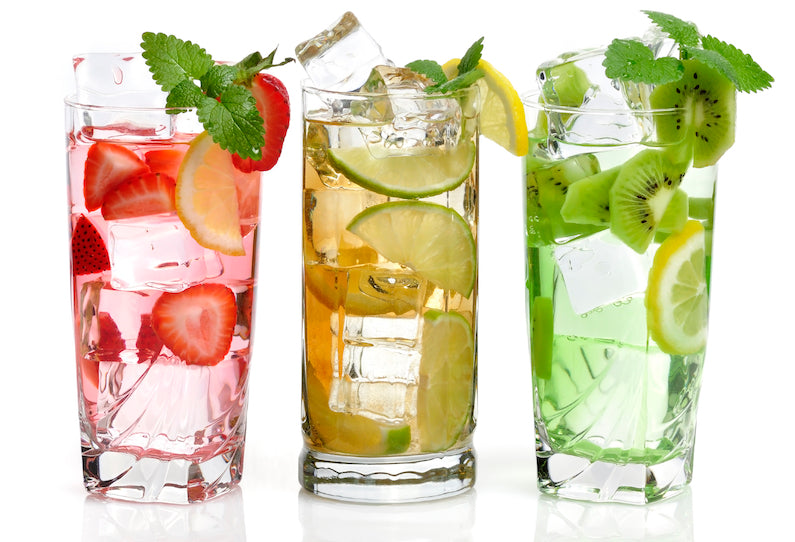 By: Bethany Barich (Follow on Instagram & Twitter)
Detox water is something that's become predominately popular over the past few years, and for good reasons too – it's delicious and so versatile! Not to mention extremely beneficial to our health. One of the biggest advantages of having detox / infused water is that it makes drinking water so much more enjoyable and fun. Along with that, they're packed with antioxidants and vitamins!
There are hundreds of different combinations that can be done and trust me, they all taste amazing.
Let's check out 5 detox recipes that are sure to hydrate and taste delicious this summer:
Cucumber-Lemon
One of the first infused water recipes I ever tried out and fell in love with. It's a classic and great way to start off if you're new to infusing. Some amazing benefits of this water are that both lemons and cucumbers are a source of vitamin C and antioxidants. They both have properties that can help even make someone look younger! Cucumbers also are a great source of relieving bloating, and the lemons are good for boosting our immune system.
To make the water you just need to slice ½ a lemon and ¼ a cucumber. Mix that into a large pitcher with 2 cups of ice and the rest water. Let it sit for roughly a hour before you start drinking. The mix should last you roughly 24-48 hours.
Blueberry-Orange 


I stumbled across this recipe on a blog titled The Peach Kitchen and am now dying to try it! Oranges and blueberries are two of the healthiest fruits and combining them just sounds fantastic. Oranges provide us with vast amounts of vitamin C which helps fight chronic diseases. Oranges are also great for relieving constipation, prevents kidney diseases and is a good cancer fighter. Blueberries are just as powerful because they're packed with antioxidants. They're also a great dose of fiber and even better, they're low calorie!
Grab a large pitcher and combine 6 cups of water, 2 mandarin oranges that have been cut into wedges and a handful of blueberries, and ice. Let this sit in the fridge for roughly 2-24 hours and then enjoy!
Strawberry-Lemon
We already know the awesome benefits about lemons, but what about strawberries? Strawberries are big on heart protecting. They can lower cholesterol and blood pressure. Plus, they're packed with vitamins and antioxidants, and are a great source of potassium. Mix that with lemons and you've got yourself one tasty drink for summer.
Slice up ½ lemon and mix that with 4-6 strawberries cut into quarters. Add that with ice and water, and for a little more flavor get a small handful of basil. Let all of this sit for roughly a hour and then drink up.
Watermelon-Mint
I felt it was needed to have a watermelon infused water recipe, because watermelon are roughly 90% water themselves. Along with that, though, they're filled with not only loads of vitamin A, B6 and C, but antioxidants and amino acids. Watermelon is probably one of the healthiest fruits out there and it taste delicious!
Take 4 cups of cubed watermelon (1/2 inch) and combine that with water and ice into a large pitcher. For an extra flavor, add roughly 6 sprigs of mint (crush them up in your hand). Let this sit for 2 hours, strain it and then serve it. The water mixture should last for at least 2 days.
Grape-Strawberry-Lime
Sounds like an odd combination? Well, trust me, it's delicious! Limes are fantastic at aiding digestion and fighting constipation. They're a great source of fiber that helps maintain blood sugar levels and can also help people who are at risk for heart diseases like strokes or heart attacks. Plus, they have a lot of natural oils that help rejuvenate the skin and protect it from infections. Add that to grapes, which are there to help with fatigue and migraines. They also have been known to help cure asthma and can help fight cavities. Combine both of those fruits with strawberries and you've got yourself a yummy drink.
Take 20 small grapes cut in halves with 1 lime that's peeled and slice, then cut up 2 strawberries. Take those fruits and put them into a pitcher and infuse for 24 hours, after that the mixture should last for 3 days.
There's a ton of recipes out there and if you're looking to experiment, check out the website Infused Waters, and try out as many recipes as you can to stay happy and hydrated this summer!