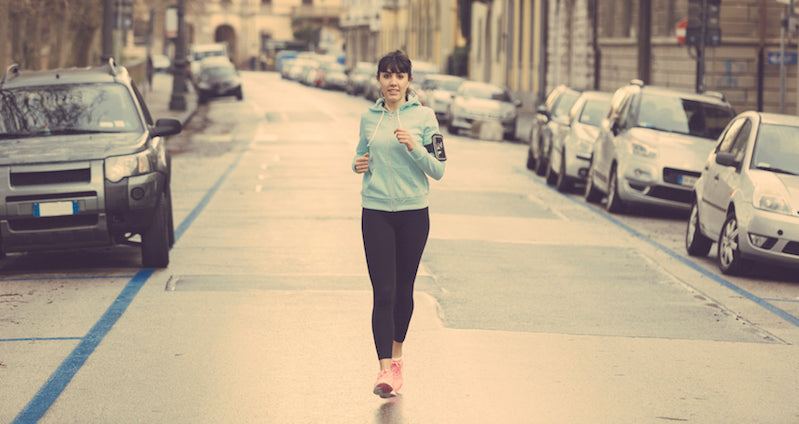 It's that time of year, where despite having set out with the best of intentions with your new year's resolutions and weight loss goals, sometimes the cold and dark and the dreary winter days make working out in the great outdoors just plain unexciting.
Instead of letting yourself fall into a slump, use these five ways to embrace outdoor workouts in the winter and make the most of the cold and snowy days!
Find a buddy – Whether you need some extra motivation or a bit of tough love, facing the cold is way easier when you're in it together. Find someone who you can work out with and who will motivate you to get your butt out of bed in the morning, or into your running clothes at night. Find someone who will embrace winter and make the most of it, not complain about how cold it is or how much snow is on the ground. Become accountable for each other and set out on your new years goals together, treating the snow and cold temperatures as just another step along your path!

Layer up and then leave them behind – Just because it's cold out doesn't mean you aren't going to get hot and sweaty during your workout but it can be a little uninviting to head out into the cold with only a couple of layers on. Instead, wear as many layers as you need to when you go outside, and do your warmup in the backyard or close to home. Before you get deep into your workout, or head off on your run, leave the layers behind, and you'll be warm and ready without overheating mid workout.
Accept that it will be different – If you are running, accept that you will be slower and that you may have to alter your route some depending on how well roads and sidewalks are ploughed.   Accept that your fingers will get cold, your feet might get wet, and that some days you may have to end the run early when mother nature wins. If you are used to doing outdoor bootcamps, accept that you will have to do different exercises to accommodate the foot of snow on the ground and if you are a gym goer, accept that some days, when it's stormy and freezing out, it may be more difficult to make it to the gym. When you accept that this is the reality and no longer let it surprise or upset you, you will enjoy your workouts for what they are and for all the good things about them, not the things about them that are missing.

Just go Play in the Snow – Don't get caught up in making sure you meet certain time goals or run a certain distance. Don't get caught up in working out for a certain number of minutes or until a certain time. Instead, just go play in the snow – run around, put on some snowshoes and hit the park, go coasting with your friends, have a snowball fight. All of these are great ways to stay active that you may not think of when you are focused on just getting your 10km run in, but that only come for a fleeting time each year. Make the most of it! 
Embrace the sunrise – As hard as it is to get and head out into the cold in the dark, you'll see so many beautiful winter sunrises (or sunsets), that after a while it will be enough of a reward to kick your butt into gear. I can't count the number of days I have gotten up, freezing, willed myself not to crawl back under the warm covers and then finished 10km next to a beautiful sunset that made it all worth while. If that's not enough, use some of these helpful tips to make morning exercising a little easier!
By: Laura Peill – (Check out her blog Chronicles of Passion & Facebook)