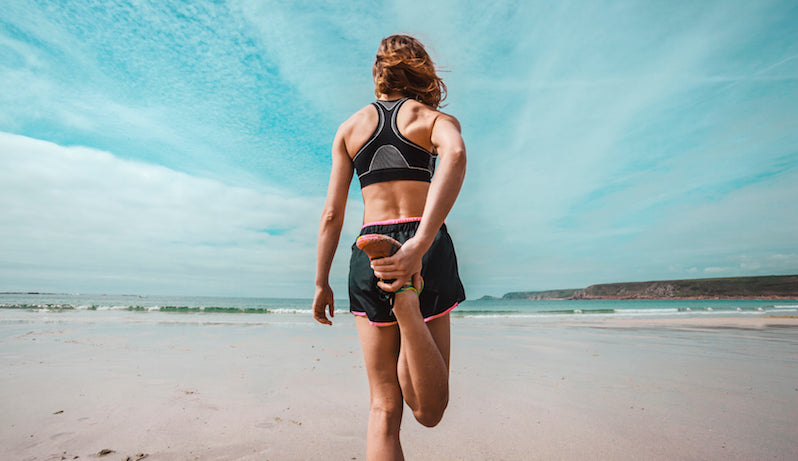 By: Bethany Barich (Follow on Instagram & Twitter) 
It's so hard to not gain weight on vacation. When we begin to workout or start a training plan, we become stuck on those habits. If we're running, we go on the same paths but maybe make a few new turns to add some extra time. If we go to a gym, we may have specific machines we use on certain days. There may be a certain place and time we go to do yoga or Pilates.
All of this can get messed up, or off track, if you go on vacation. The distractions of that can take over, or the business of the trip may too, thus throwing you off the course you've started for yourself. However, there are certain things you can do to be able to go on vacation but not lose track of working out or training. 
Add adventure. 
First off, if you're going on a road trip, make it an essential to go on random walks or hikes at rest stops or any campsites. If you find yourself traveling throughout the mid-west, there's going to be a lot of canyons or trails to explore. If you're staying at one set location, check out the area to see if they have any activities you can do such as kayaking, biking, or if you're at the beach, surfing. Acting on these ideas will not only get your fitness in for the day, but you'll be able to make some memories too. 
Run wild.
Running at home can become both comfortable and nice, and repetitive. If you're on vacation, don't be afraid to go for a run because new environments and paths are always a fun way to keep yourself going. Not only that, but depending on where you're at, they can also add a bit of a challenge if they're a hill invested area. If you're at the beach, running on the beach is a nice challenge plus extremely beautiful. The only precaution to take is being careful on where you go running, if you're in a wooded area, obviously beware of animals and if you're in a city, beware of cars.
Yoga.
In general, it isn't that difficult or space consuming to pack a yoga mat up in the car. Even if you may not have a full 30 minutes or an hour to dedicate to doing yoga, there's always at least one quick workout or practice that can be done while on vacation. A big plus too is that a lot of places will have local yoga studios, so do some homework and check out the closest one and see what the class rates are. Sometimes studios will offer courses that are taught by students and therefore are a cheaper price, but still just as effective.
Hotel workout.
Once again, do research and make sure where ever you're staying at has a gym that is open to all staying at the hotel. Normally hotel gyms will offer a treadmill, elliptical, bicycle and a few sets of weights and maybe some arm machines. On the first day you get there, check out the machines they have and plan circuits to do daily while on vacation. If you're not sure what type of circuits to do, see Pinterest or other websites that offer machine workouts.
Swim on.
No but seriously, once again, do research and see if the hotel you're staying at also offers a pool. Normally they will – even if you're staying close to the beach. From there, pack a swimsuit and make sure you fit in time to go for a quick swim! Do laps around the pool or check out some workouts specifically designed for in the pool. If you're lucky, you could maybe find some water aerobic classes offered at the hotel or at a near by recreational center that could have cheap daily rates.
Conclusion.
No matter what, try to fit in time to keep up exercising and staying active. Whether that's simply going for a walk and exploring you're new surroundings or doing something that's listed above. Just because you go on vacation from work or school does not mean you have to put aside you're lifestyle for that brief time too. Make the most of it and try new things!