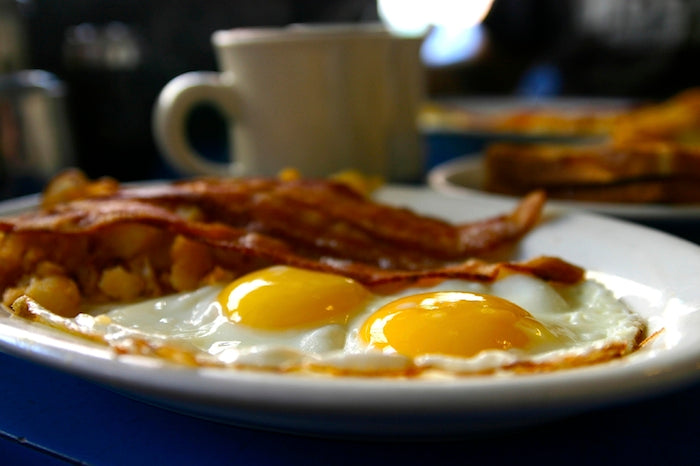 By: Vicki Bolen 
When you are to trying to eat well, dining out can make even the most disciplined of heathy eaters, cheat. I've compiled a list of tips and low calorie meal options that will satisfy your taste buds, and your waistline!
1. Don't make the mistake of being naïve; never take menu options at face value. For the longest time I ordered the Hibachi Chicken Skewers from TGI Friday's, I thought, "Chicken, rice, pita bread – HEALTHY!" little did I know it was just under 1300 calories! MAJOR FAIL! That was my whole days' worth of calories in just one meal! Now I know, just because a dish contains healthy ingredients, doesn't mean its low calorie. Restaurants load their entrees with butter, salt, and who knows what else! Be the person who knows what your meal is made of! You'll be thinner for it.
2. Know the menu's nutrition before you step into the restaurant. Okay, you don't have to know the whole menu, unless you're trying to work there, but you should know what you're going to order a head of time. Planning is key here! Underestimating how fattening a restaurant entrée is will be the down fall of us all, well, our waistlines at least. If you know what you're going to order a head of time you don't have to skim through the menu, and drool all over the food that you can't have. It also helps you from making rash decisions, and ordering something high calorie and fat packed because you don't know what else to get. I know I've done that before!
3. Talk to your waitress. If you are really craving something unhealthy and you just absolutely got to have it, or you'll go mad. See if your waitress can talk to the cook and make some healthy swaps. For instance, if you're really craving a burger, ask if you can swap the white bun for a whole wheat bun, top your burger with mushrooms, avocado and Swiss cheese instead of a bacon cheddar cheese burger, loaded with mayo. And of course switch out those fries for a side of veggies or fruit. Healthy swaps can make all the difference.
4. Don't go big or go home! Every time I was out to dinner, I would skim the menu and have a mini battle inside of my head, "Should I get the grilled chicken or EVERYTHING BAD FOR YOU!?" shortly after that mini battle, I would say "GO BIG OR GO HOME!!" which entailed me ordering the most fattening thing on the menu, specialty drinks, appetizers, followed by the most fattening dessert on the menu. I would then waddle from the restaurant in shame. I know better than anyone that when you're out to eat you want to have a good time and stuff your face, but is an hour of pleasure really worth hours and possibly days of bloating and self-loathing? NOPE! So, choose one option from two of the following categories (Drinks, Appetizers, Entrée, & Dessert),and make them healthy choices! Have a low calorie drink, and a low calorie entrée, or if it's a casual night have a low calorie drink and split a healthy appetizer, and the list combination possibilities go on! Forget that go big or go home mentality at a restaurant, and save that for the gym!
5. Don't drink all your calories! This sounds absolutely ridiculous, but when I would go out to eat I would forget that drinks have calories. I would order a healthy meal, but I would drink 4 strawberry lemonades. I would be so proud of myself and say "I only ate 600 calories! Woot Woot!" Shortly after, reality would hit me and I would realize I just had 1400 calories because of those stupid strawberry lemonades! Save yourself the false glorification and stick to drinking water, unsweetened iced tea (sweetened with stevia or whatever zero calorie sweetener of your choosing), or diet soda. I usually stick with water and lemon, because it makes me feel healthy and I know there is absolutely no way I can make the strawberry lemonade mistake again! If you are anything like me you want to save those precious, precious calories for food! 
Now that you have seen my low calorie dining tips, take a look at these tasty meal options! It will save you from scrolling through the menus online.
TGI FRIDAYS
Appetizers: All of these options are less than 600 calories, so when you split them you're consuming 300 calories or less. Those options include, the Pan Seared Pot Stickers (590 Calories), Spinach Florentine Flatbread (540 calories), Thai Pork Tacos (290 calories), Ahi Tuna Crisps (330 calories), and the Garlic & Basil Bruschetta (350 calories).
Entrées: More options that are 600 calories or less, and they are mouthwatering, good! Sizzling sirloin &Spinach (410 calories),Sizzling Chicken and Spinach (410  calories),Sizzling Citrus Herb Chicken (430 Calories), Grilled Norwegian Salmon with Langostino Lobster (540 calories),6 oz. Sirloin (370 calories),Flat Iron steak (380 calories).
Sides: Side salad with Low fat Balsamic Vinaigrette (120 calories), Fresh Broccoli (50 calories), Tomato Mozzarella Salad (110 calories), Ginger Lime Slaw (80 calories).
Desserts: Of course desserts aren't healthy but sometimes you got to have a little! I found the ones with lowest calorie on the menu! Just don't eat it by yourself! Oreo Madness (500 Calories), Salted Carmel Cake (750 calories), Chocolate Peanut Butter Pie (720 Calories).
Chili's
Appetizers: After overlooking Chili's menu I noticed most of their appetizers were over 850 calories! Ugh! But, I noticed their Triple dipper (Pick 3 small portion options) has some "lower" calorie options such as, South Western Egg Rolls (580 calories), Original Chicken Crispers (570 calories), Boneless Buffalo Wings (640 calories). I know these options aren't ideal, but practicing portion control is important! If you are really hungry and you want to save even more calories you can always have a cup of soup, such as Terlingua Chili (200 calories), or the Southwest chicken (110 calories).
Entrees: Chili's has recently stepped up in terms of healthy dinner options, thank goodness! 6 oz. Sirloin with grilled Avocado (410 calories), Grilled Chicken Salad (430 calories), Mango-Chile Chicken (520 calories), Mango-Chile Tilapia (520 calories), Ancho Salmon (600 calories), Margarita Grilled Chicken (580 calories).
Sides: Asparagus & Garlic Roasted Tomatoes (70 calories), Black Beans (110 Calories),Seared Shrimp (80 calories),Spinach & Garlic Roasted Tomatoes (45 calories).
Dessert: Again, if you need dessert; the lowest calorie option I found on the Chili's menu was the cheesecake which is 750 calories! Ahh! Everything else is 1100 and up! Either share the cheesecake, or avoid getting dessert at Chili's all together.
Applebee's
Appetizers: Grilled Chicken Wonton Tacos (480 calories), Ultimate Trio (pick 3 smaller potion options) Mozzarella Sticks (400 calories), Classic Wings (460 calories), Boneless Wings (520 calories), Chicken Tortilla Soup (220 calories).
Entrees: I am so excited about Applebee's new pub diet entrees! They look so good and they are all less than 600 calories with the sides included! Yes! Pepper Crusted Sirloin & Whole Grains (350 calories) Cedar Grilled Lemon Chicken with Quinoa (560 calories), Shrimp & Broccoli Cavatappi (450 calories) Savory Cedar Salmon (520 calories).
Desserts: Salted Caramel Pretzel Bites-Mini (420 calories), Brownie Bite (380 calories), Dessert Shooter-Strawberry Cheesecake (390 calories).
You are now fully equipped with information to save calories while dining out! So, go have a good time and relax. With these tips you won't have to worry about your waistline!