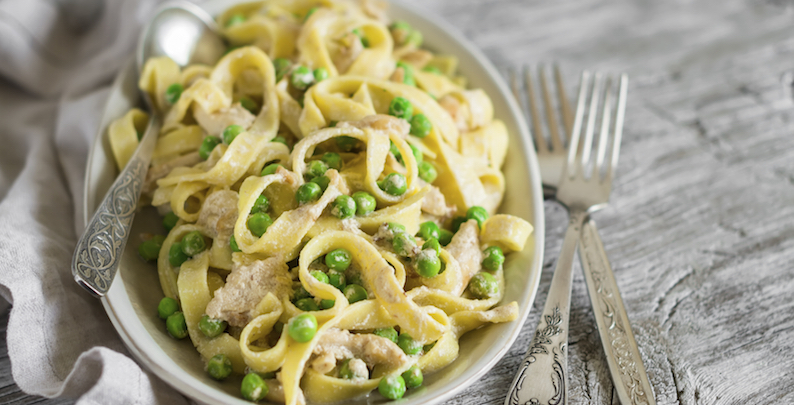 If you think being on a weight loss plan means you have to sacrifice creamy, saucy pasta, think again.
While you may not be able to consume your usual amount or your usual full fat cream sauce, there are still plenty of alternatives that will give you that creamy, dreamy taste without all those not so dreamy calories.
Check out these ideas to get you started.
Avocado
This fruit is a great source of protein and is loaded with healthy fats, part of what helps it get its creamy, smooth texture when used for pasta sauces. Choose avocadoes that are really soft and ripe and then place in the blender or food processor with some freshly squeezed lemon juice and salt. Blend until smooth and creamy, and the result is a lovely sauce with a hint of lemon perfect for tossing through linguini with some fresh herbs. Tip: don't make the sauce too soon before eating otherwise it may lose its creaminess, colour and delicious taste.
Cashews
The key to smooth cashew cream sauce is in soaking the nuts the night before. After they have soaked, add them to a high-speed blender with some salt and lemon juice, and a couple of tablespoons of coconut cream. Puree until smooth and creamy (it may take a while) and then use for delicious mushroom alfredo made, using bowtie pasta and fresh coriander.
White beans
My personal favourite option for creamy pasta, white beans take on flavor really well and become a protein packed, creamy delight that make the perfect sauce for stir-fries and noodles.   I usually blend a half can of white beans with some miso, lemon juice, salt, tahini and enough water to make it smooth and creamy and then it works perfectly for Asian inspired stir fried veggies with tofu and soba noodles.
Tahini
Great on its own or blended with another ingredient like white beans or avocado, tahini is a creamy sesame seed paste that lends great flavor to dishes. Not only is it a source of fat and protein, but sesame seeds are really high in calcium and make a great non-dairy source of this important mineral. Be sure to check the label on your tahini to make sure there are no added sugars used during processing.
Hummus
Perfect for dipping fresh veggies and slathering onto pitas, did you know that hummus also makes a great creamy sauce? Dilute the hummus with a bit of water so you can easily pour it on your pasta dish and veggies and then add any seasonings or flavours of your choice. It works well with fresh spring veggies like asparagus, spring onion and peas and is a treat spread over lasagna sheets in vegetarian lasagna recipes.
Squash
Both squash and sweet potato go incredibly smooth when pureed and work well with earthy flavours like mushrooms, cabbage and parsnip. Add some squash to the blender with some coconut milk and tahini and add some spices such as cumin, coriander, curry and cardamom. Blend until smooth and then toss through penne with roasted root vegetables and some fresh sage.  
Cauliflower
If you haven't tried the infamous cauliflower cream sauce, you are missing out. Cook a pot full of cauliflower florets until very soft and almost mushy. Drain and place in a food processor with some coconut milk, lemon juice, garlic, salt and pepper and some nutritional yeast and blend away. If necessary add a bit of water or extra coconut milk to get it going and the result is this creamy, delicious spoon-feed me sauce that is made of veggies.