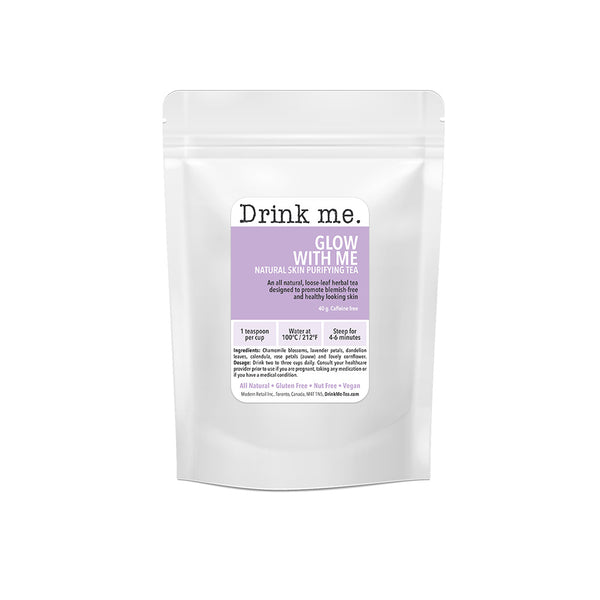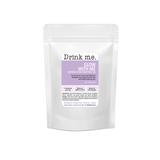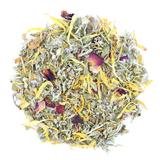 Drink Me Tea: Clear Skin Tea
Glow With Me. All natural, gluten free, nut free and vegan.

We are excited to offer our customers a special discount on

Drink Me Tea's

premium blends of loose-leaf skin clearing tea. This unique loose-leaf blend includes the following premium, all natural ingredients picked and blended to promote clear and blemish free skin:

Rose Petals

(rosa)

- a flower which contains vitamin C, a natural antioxidant, which promotes a healthy 

immune system, and it assists in the production of collagen, a protein essential for healthy skin and hair.

Calendula (calendula officinalis) - a flower known for its anti-inflammatory and antiseptic properties.
Chamomile Blossoms (matricaria chamomilla)

- a flower common used to 

fight against acne scars through its anxiolytic and antioxidant properties.

Lavender Petals (lavandula)- a p

owerful antioxidants commonly used to counter the harmful effects of pollutants on the skin.

Dandelion Leaves

 (taraxacum) - a flower which 

contain several antioxidant compounds, such as luteolin, caffeic acid and chlorogenic acid, that help your body rid itself of potentially harmful free radicals.

Cornflower (centaurea cyanus) -

Drinking the tea will also boost immune system function, calm anxiety and quiet a rumbling tummy.

Each bag contains 40 grams of premium, looseleaf tea. Caffeine free.

Disclaimer

Consult your healthcare provider prior to use if you are pregnant, taking any medication or if you have a medical condition and prior to longterm use.