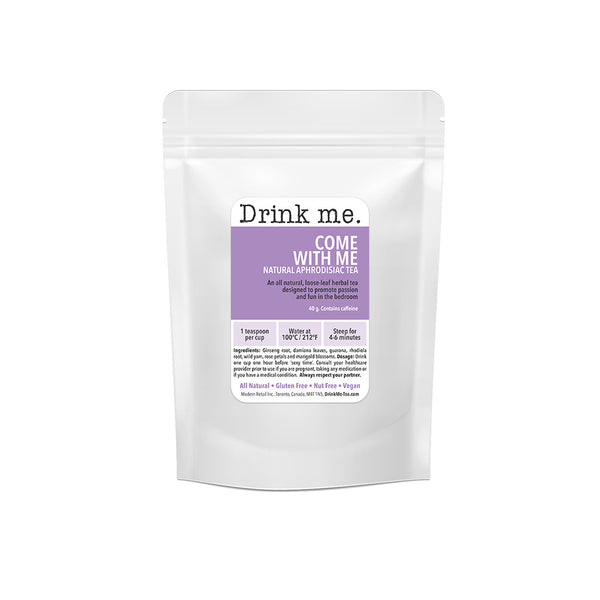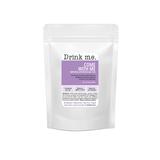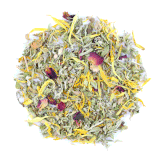 Drink Me Tea: Aphrodisiac Tea
Come With Me. All natural, gluten free, nut free and vegan.

We are excited to offer our customers a special discount on

Drink Me Tea's

premium blends of loose-leaf aphrodisiac tea. This unique loose-leaf blend includes the following premium, all natural ingredients picked and blended to promote a better sex life:

Ginseng Root

(

panax

) -  used for thousands of years in Chinese medicine as an aphrodisiac to treat sexual dysfunction as well as to enhance sexual behavior and gonadal functions.

Damiana Leaves

(

turnera diffusa

) - a wild shrub that grows in Mexico, Central America, and the West Indies historically used to increase sexual desire.

Guarana

(

paullinia cupana

) - a plant named for the Guarani tribe in the Amazon is a 

caffeine

 based 

stimulant

 commonly used to assist with weight loss, to enhance athletic performance and to reduce mental and physical fatigue.

Rhodiola Root

(

rhodiola rosea

) - the root of the rhiodola plant is common used for increasing energy, stamina, strength and mental capacity as well as improving sexual function.

Wild Yam

(

dioscorea villosa

) - a plant frequently promoted for its ability to increase sexual energy levels.

Rose Petals (surrexit petalis) - nothing says romance like rose petals.
Marigold Blossoms (calendula officinalis) - an antioxidant which helps protect your body's cells from damage caused by free radicals or hazardous molecules.

Each bag contains 40 grams of premium, loose-leaf tea. Contains caffeine.

Disclaimer

Consult your healthcare provider prior to use if you are pregnant, taking any medication or if you have a medical condition and prior to longterm use.