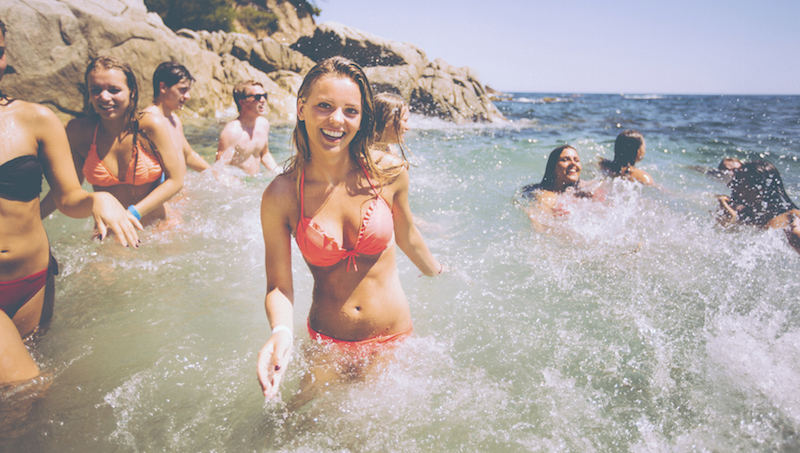 I'm a firm believer in the idea that one should be able to wear whatever they're comfortable in regardless of body shape or size. 
That belief isn't conditional or seasonal; even on the beach in the summer I think everyone should wear whatever they're comfortable wearing. 
That being said, sometimes there are certain areas of our bodies that we either want to play up or down, and finding a bathing suit to do just that can be really tough.
Here's my guide on how to find a bathing suit that makes you look as good as possible:
If you want your boobs to look bigger…
There are a few things that you can do to play up your boobs. The first of which would be to grab a padded bikini top to give you a little bit of lift. If you're not the biggest fan of padding in your bathing suit top, try grabbing one that incorporates ruffles, ruching, or cute embellishments to draw attention to the area. 
OR you can combine both techniques and get a padded bathing suit top with cute embellishments. 
Also check out 'how to get bigger boobs without padding or a pushup bra' - it will change your life!
If you need more support up top…
There's nothing more annoying than constantly needing to adjust your bathing suit top to avoid an obscene wardrobe malfunction in a family setting. If you're working with a larger bust, flimsy tops are not your friend (I know they're not mine!). Try going for a bathing suit top that has cups built in (bonus if they have comfortable underwire!).  Thicker straps also lend a little extra support.
If you're looking to accentuate your booty…
There are so many things you can do to enhance the way your beach bum looks in your suit. If your concern is making your bum look fuller, you can go about it in the same way that you would to make your bust look fuller. Ruffles, patterns, and cute embellishments will be your best friend here. If you already have a fuller booty and want to look cute without having to adjust your bottoms every other minute to ensure that you're not showing too much, grab suit bottoms that have enough fabric to give you coverage while still looking cute. 
If you want a bikini but are self-conscious about your waistline…
You can still totally rock a two piece regardless of what your waist looks like, but if you're feeling too self-conscious to take that full leap, try a bikini with high waisted bikini bottoms that extend to above your belly button. This will let you rock a two piece while still keeping you within your comfort zone.
If you need to better protect your skin…
Long sleeved bathing suit tops aren't just for surfers! If you have skin that burns easily or have other reasons for needing a little extra coverage, grab a long sleeved bathing suit top with a cute pattern. Bonus? A lot more swimwear brands are trying to incorporate SPF into their fabrics!
You know that saying "Fake it till ya make it"? That goes for bathing suits too. Grab whatever catches your eye, stay cool, and kill it confidently in the suit that you choose.
By: Kayla Harwick