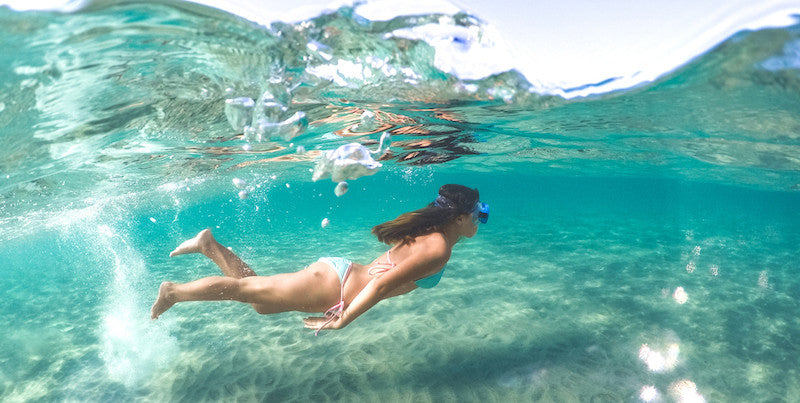 Summer is here, which means you no longer have to be trapped at the gym to get a solid workout. Instead of staying inside, get some fresh air and check out these four amazing ways to get a workout done during the warm days ahead.
1. Rock Climbing
Rock climbing is the perfect way to get a total body workout. You'll not only work your arms and legs, but climbing requires core strength. Plus, due to gripping, you'll actually gain strength in your fingers and toes – if you climb barefoot. If you're not ready to scale rock walls outside, check to see if your city or a nearby one has a rock climbing gym that offers bouldering. You'll be free of a harness, but it'll be the perfect practice in strength before heading outside.
2. Swimming
If this activity isn't an obvious workout, than I don't know what is. Swimming is the perfect past time during anytime of the day when it's summertime. Another perfect total body workout, a major plus of working out in a pool is that the buoyancy of the water makes it seem like you can work for longer. Click here for some awesome circuits that can be done in a pool, and if you have a recreational center that offers pool aerobics, sign up!
3. Hiking
The best lower body workout possible, besides running and biking, going for a hike around the woods will give you the sweat you deserve. Just remember to not push your heart rate up to a pace that labors your breathing to the point of not being able to speak.
4. Kayaking
A killer upper body workout, however when done right it can also give you a great core workout too. Check out any local parks around the area that offer kayaking rentals, and do the minimum time to see how your endurance is. From there, work your way up to longer times, and even rockier courses if you're capable.
Looking for more Summer Workouts?! Check out these 6 non swimming pool exercises designed to burn fat!