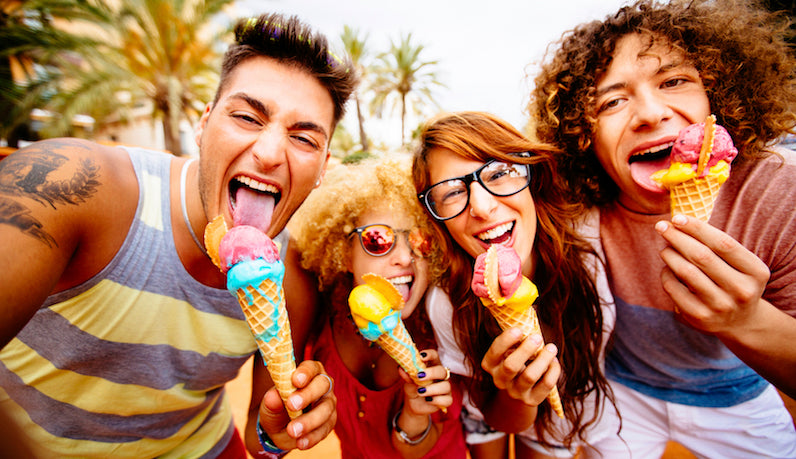 By: Bethany Barich (Follow on Instagram & Twitter) 
If there's one thing that I love about summer, besides lounging at the pool, it's taking road trips with my friends. The best summers are the ones where you're all packed up in a SUV or van, a cooler in the back, feet on the dashboard, and checking to see where the road takes you.
Taking a road trip can lead to so many different things happening – you can discover something about yourself, you'll always meet new people, you can see amazing places, go to festivals, or even find a new place to live.
Not only is packing the proper gear on a road trip important, but packing the proper foods is too. Don't expect to be able to make full fledge meals while on the road – the most luxurious you may get if you plan on camping is a nice canned corn meal. Being on the road can lead to difficulties when managing what foods to pack – especially if you have a cooler too, which leads to having to be more prepared and aware.
However, let's take a look at some healthy snacking options to help you travel easier and sustain energy!
Protein
Packing foods with high protein is essential, because it'll help keep your energy up plus give you the required nutrients. If you're struggling on what would be the healthiest route – don't. It's okay to pack somewhat unhealthy snacks, it's summer and you're going on a road trip! A good low-calorie option is jerky. Sure they're high in sodium, but they're also jammed with protein and you can get them in a beef, turkey or venison option. An even bigger bonus of packing jerky is if you run out, the nearest gas station will most likely have some for sale. Other options include doing peanut butter and jelly sandwiches (jelly is optional)! They're perfect for outdoors and car lunches. Other simpler options include nuts – pack them in little bags that way you also have your portions under control.
Bars
Kind, Luna, Larabar, Bumblebar, whichever you choose, it's a good option. Each of the brands I listed contains many different benefits and all can be a supplement to help with weight loss. Another reason they're great is because how useful they are when people are on the road. They're a simple and quick snack to have when food is low and your stomach is hungry. The only obstacle one may face when choosing to have snack bars, is the price – since these are healthier options, their prices can vary and total out to be very high, so plan wisely or buy in bulk. 
Fruits
The first tip of packing fruit for a road trip is to make sure it's easily to peel/eat. If you're planning a road trip and want to include snacks grab bananas, apples, oranges, apricots, etc., -fruits that don't require you to keep them cool. If you do want chilled fruits, pack grapes, berries, or pre cut strawberries and store them in containers (store all the chilled fruits in containers).
Veggies
In terms of veggies, the same tips apply. Make sure all raw veggies have been washed and pre packed according to how you plan to consume them. If you have leftover containers, pack hummus or dressings to pair with the veggies – if it's celery, pack peanut butter.
Treats
All road trips need treats. This can include packing dark or milk chocolate, M&Ms and other assortments of candies. Combine some of these options listed to make a delicious trail mix, or have popcorn options. If you're traveling with kids, it's always a good idea to have these types of snacks on hand – and for our own benefits too. Avoid immediately grabbing a candy bar at gas stations – if you're craving one, try to have one of the healthier options listed above, or find a dark chocolate treat, but don't be afraid to get candy if you absolutely want some and know you won't feel guilty for consuming it.