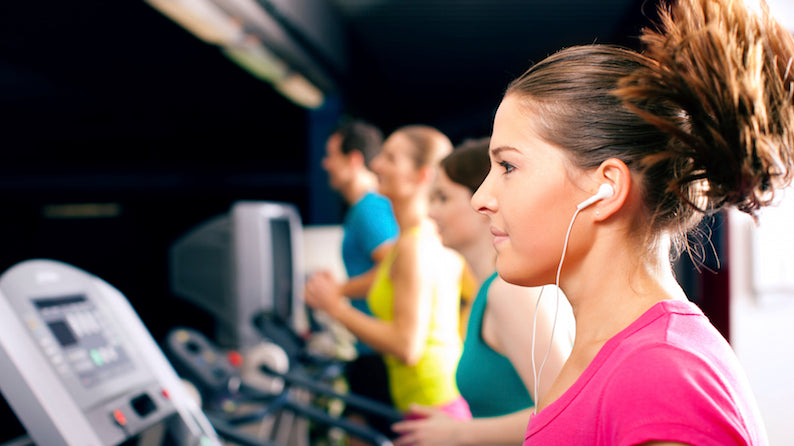 By: Bethany Barich (Follow on Instagram & Twitter) 
I can still remember the moment I crossed the finish line when I ran my first ever half-marathon. Sweat was pouring off of me from everywhere, my heart felt like it was going to beat out of my chest. I knew when I stopped running my legs would feel like jelly, and even scarier than that, the Gatorade I had chugged at mile 12 wasn't sitting well in my stomach.
I knew from previous race experiences to put the final song on at the last drinking station. After hitting mile 13, I see the drinking station in the distance, the people handing them out, and the runners drinking and throwing their cups. I grab mine – this time only water because the thought of drinking Gatorade makes my stomach sicker. I throw my cup and grab my phone. I put my finishing song on "Heroes" by David Bowie and I can feel my feet picking up their pace, I sing along to the lyrics which boosts my confidence, and finally, I cross the line with the song ending and a smile on my face – I've accomplished another race. 
Music can play a vital part in running and, in general, working out. If you've ever seen the videos from Blogilates, Cassey Ho occasionally does challenges where you do a specific workout move throughout one song – and trust me, the after burn is satisfying just as much as the results eventually are. 
Music can set the tempo of your run or workout, as well as motivate you to finish. If you find yourself struggling through a move, think to yourself about how rewarding it'll be when the song is over and you can rest and that all you have to do is push through those last couple of verses. If you're someone looking to improve their running time, or just have something that distracts you, music can do that – the beats can help set the pace of your run, plus whichever artist you choose can help distract you via singing along!
Listed below are 20 songs that, I personally think, are perfect for working out, whether it be lifting weights or squatting at the gym to running outside. The songs will range from classics to rap to pop, but all that matters is they're catchy and perfect as a distraction!
"Uptown Funk" – Mark Ronson & Bruno Mars

"Partition" – Beyoncé

"Anaconda" – Nicki Minaj (The best music to squat or lunge to.)

"Starships" – Nicki Minaj

"I'll Make a Man Out of You" – Donny Osmond (Yes, the song from Mulan.)

"Power" – Kanye West

"Do You Love Me" – The Contours

"Bad Girls" – M.I.A

"Kids" – MGMT

"The Mother We Share" – CHVRCHES

"My Songs Know What You Did In The Dark" – Fall Out Boy

"Sugar We're Goin Down" – Fall Out Boy

"Girls Just Want to Have Fun" – Cyndi Lauper

Don't Stop Believin'" – Journey (Another song to play at the end of a race.)

"Beat It" – Michael Jackson

"Applause" – Lady Gaga

"Telephone" – Lady Gaga (With, or without Beyoncé.)

"Come and Get It" – Selena Gomez

"Toxic" – Britney Spears

"Survivor" – Destiny's Child
No matter what you choose, some nice tips to remember when making your own playlists include: keeping things upbeat, make sure they're catchy tunes, and don't be afraid to mix up genres. Seriously. It's one of the most interesting things to do – when you have a mixed playlist, set it to shuffle. You'll never know what you're getting next and it's never boring.