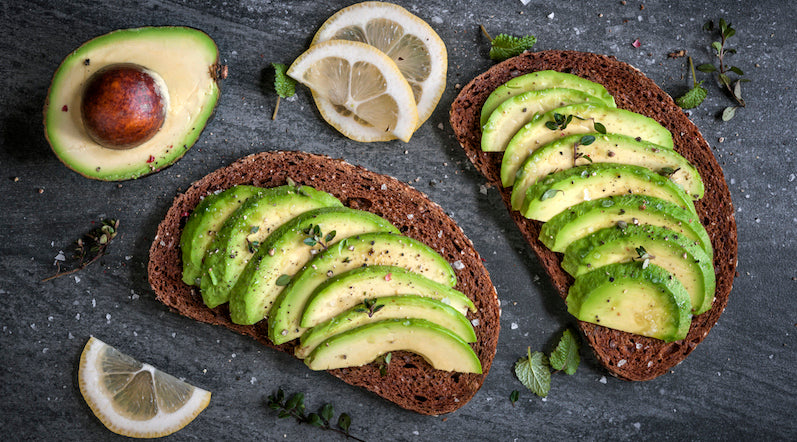 Have you been having the same thing for breakfast for the last several months? 
Are you in a bit of a breakfast rut, where you don't mix things up much and just rely on your same toast with jam every day? 
Enough of that!
It's time to mix things up and try a new healthy breakfast.  Choose from one of these 14 options!
Smoothie – Whether it's green, filled with berries, yellow or made chocolate using raw cacao, you can definitely pack in a filling, healthy breakfast all in drinkable form.

 

Stay away from adding fruit juice or added sweeteners and boost the nutrient content with added veggies and superfoods.
Smoothie bowl – My personal favourite, turn your smoothie into a thicker option by making a smoothie bowl! You can do similar flavours to your favourite smoothie, and simply add some ice, use frozen fruit and add less liquid than your usual smoothie.
Avocado toast – The truth is, this breakfast is never overrated! Toast up some of your favourite bread, layer it with avocado, rocket, a drizzle of lemon and some salt and pepper and you'll be filled and satisfied for hours to come.
Oats – We couldn't forget about the infamous oats.

 

Whether you do it as overnight oats and make them the night before, or cook them fresh to order, oats are a great vehicle for getting your dose of superfoods, fruit, healthy fats, protein and even vegetables.

 

Play around with your favourite additions, and if you want to be really rebellious, use an alternative grain, like quinoa, millet or buckwheat.
Eggs – Easy over, poached, scrambled, sunny side up, or simply hard boiled, eggs are chock full of protein making them a great way to ensure you are fuelled and filled for the day to come.

 

Add a healthy fat and complex carbohydrate to the mix and you'll be full up until lunch!
Yogurt – Topped with fruit and your favourite granola or a few almonds, yogurt is a great healthy option for your breakfast needs.

 

It contains probiotics, which are good for a healthy digestive system, and the natural fat content helps keep you full.

 

Just steer clear of yogurts with added sugar!
Muffin – Into baking? Make yourself a batch of healthy muffins that you can grab for breakfast on your way out the door.

 

They're great to have for mornings that you wake up late, leave the house late, or just have to be out the door super early!
Quickbread – If bread is more your thing than muffins, make a loaf of banana bread, pumpkin bread or your favourite blueberry loaf and slice it up.

 

Individually wrap 1-2 slices and put them in the fridge or freezer, and then when you need it, it is ready to go!
Fruit salad – An oldie, but a goodie, fruit salad is a great breakfast go to.

 

The fruit is packed with vitamins and minerals, gives you a dose of fiber and is great to boost hydration!
PB and banana toast – If you're a toast kind of person, peanut butter and banana toast might just be the perfect answer.

 

The peanut butter provides protein and a healthy fat, while the toast

 

(providing you are using whole grain bread), is a complex carbohydrate that helps fill you up for longer.

 

Add the banana for the extra boots of potassium and slow digesting carbs and you'll be good to go until lunchtime!
Breakfast sandwich – If you don't like to skimp out on breakfast, go all the way and make yourself a savoury breakfast sandwich.

 

Add tomato, avocado, sautéed mushrooms and some Dijon mustard, with rocket or your favourite green on top of whole grain sourdough bread and you are in for a treat!
Stuffed avocado – It's the new thing: cut your avocado in half, take out the pit, and then stuff it full.

 

Whether you make it crunchy, creamy, savoury or sweet, use your avocado as a vehicle to take your breakfast favourites to the next level!
Open faced sandwich – Sticking with the savoury, sandwich idea, grab your favourite bread and make yourself a tasty open faced sandwich for a lazy Sunday morning breakfast.

 

Top it with eggs, avocado, greens and your favourite sauce, pour your coffee and enjoy!
Muesli – A breakfast classic, all over the world, the flavours, ingredients and types of muesli are endless.

 

Do yourself a favour and experiment with making your own, or try out different kinds and create a delicious breakfast with fruit and a crunchy muesli topping.
By: Laura Peill – (Check out her blog Viand Nutrition & Facebook)