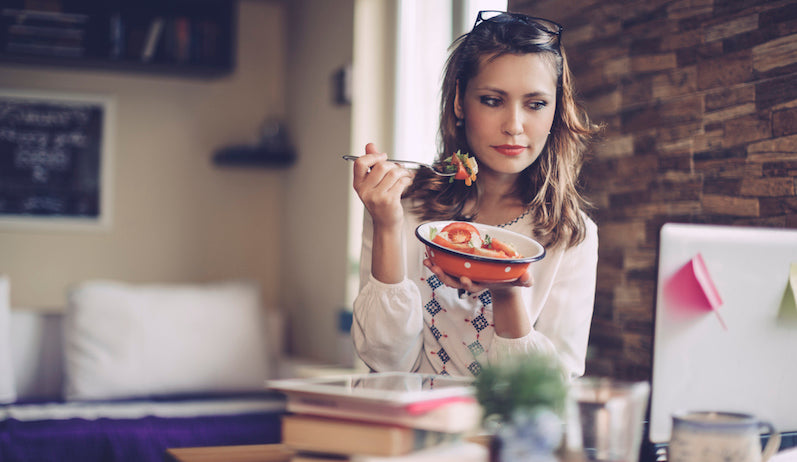 A new year is always a great opportunity for a new focus on health and fitness. They say breakfast is the most important meal of the day, but lunch is extremely important as well!
Here are 10 healthy lunch ideas that will fill you up, and give you a great nutrient boost to last you throughout the day:
Smoothie bowl – Not just for breakfast, smoothie bowls make a great lunch option as well.

 

You can pack them full of healthy ingredients, including fruit, vegetables, greens and superfoods, and it is easy to get a source of protein, healthy fats and complex carbohydrates in your bowl.

 

The result is something that fills you up, while simultaneously giving you a great burst of nutrients and energy!
Veggies and hummus – A classic, but often favourite, raw vegetables and hummus are filling, a great source of protein and an easy way to increase your daily intake of vegetables.

 

Both the veggies and hummus are high in fibre, meaning they fill you up and leave you satisfied for the afternoon, and together it's the perfect combination of macronutrients to fuel your body.
Fruit parfait – Choose your favourite fruits, find a healthy yogurt that contains healthy bacteria and no sugar and make some sugar free homemade granola and create your own fruit parfait.

 

Layer each of the ingredients in a tall glass or jar and you will have a great source of protein, and complex carbohydrates, as well as a serving of fruit, all of which will help fill you up and give you a healthy lunch option!
Spring rolls – Making your own spring rolls is easy, fun and way healthier than the typical fried version you will find at the store.

 

Buy a pack of rice paper, choose your favourite vegetables or fruits and, after soaking the rice paper, roll up your lunch! You can make a dipping sauce using some vinegar, lemon juice and ginger, or simply use liquid aminos.

 

Raw veggies like cucumber, carrot, avocado and cabbage are great veggie fillers, while you can use kiwi, peaches, plums or nectarines if you would like a fruit option.
Soup – The next time you make soup for dinner, make some extra to have for lunch the next day.

 

Not only will it be a quick and easy lunch for you to reheat or pack to take to work, but it will also be packed with nutrients and fill you up for the afternoon!
Salad – Salads are great, because as long as you have heaps of greens, you can kind of throw in whatever else is in your fridge.

 

Everything from cucumber to carrots to nuts, seeds, dried fruit and olives are all great options to offer a great salad that is flavourful and fun.

 

Try to add in a protein option, like chickpeas, tofu or lentils, and use lemon juice and some smashed avocado with a drizzle of balsamic vinegar for a dressing.
Tapas style – Grab a plate and create a tapas lunch: some avocado, some sliced tomato, some raw veggies and fresh fruit, a few gluten free crackers and a bit of hummus, and you have lots of choices and a filling lunch.

 

This option is great when you can't decide what to have, or only have a little bit left of lots of things.

 

Just be sure not to have large quantities of any one option!
Lettuce cups – Instead of a sandwich or wrap, build your lunch in lettuce cups.

 

Throw in some avocado, veggies and some salsa, or make a salad to put in the cup and you have a great healthy vehicle for all your delicious food!
Homemade sushi – Easier than you think, all you need for sushi is some nori wraps, some veggies and a rice option.

 

I like to use cauliflower rice, and will often stuff the wraps with carrot, cucumber and avocado, or some sautéed mushrooms.
Avocado on toast – A breakfast classic, but a comfort food any time of day, toast up some of your favourite gluten free bread, slather it with avocado, a sprinkle of salt and some lemon juice and you also have a great lunch.  Enjoy it wish some raw veggies or fresh fruit to round out your plate, and you'll be satisfied until dinner!
Also check out 14 Healthy Breakfast Ideas. 
By: Laura Peill – (Check out her blog Viand Nutrition & Facebook)