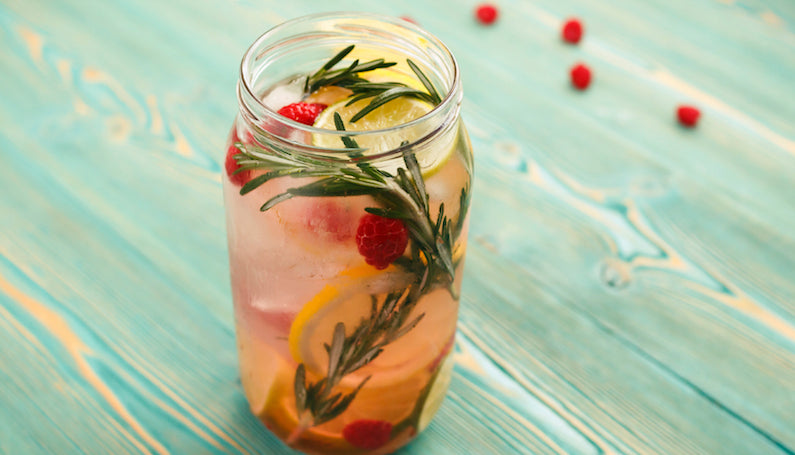 By: Sarah Gerbig
It finally feels like Summer is here to stay doesn't it? The sun is shining, people are enjoying the outdoors and your cute cut-off shorts have been pulled out from the bottom of your closet. Rising temperatures mixed with busy summer schedules can easily cause dehydration. Without enough H2O, the body cannot function properly and can lead to fatigue, irritability, rapid heart rate, fever and in bad cases, delirium and unconsciousness.
In order to avoid the nasty effects of dehydration and to cash in on the many benefits water has to offer, make sure you drink at least 8 glasses of water per day. At times this can seem impossible, but with these great tips staying hydrated this summer can be easy and fun!
Infuse water with your favourite fruit
Adding fruit can add the perfect amount of flavour to your water without adding the chemicals or calories! For awesome fruit-infusing recipes brought to us by fellow Skinny Teatox blogger Bethany Barich, click here.
Invest in an adorable water bottle than you'll actually use
You'll drink more water if you enjoy carrying around your bottle. Find one that looks good, can hold plenty of water and keeps your beverages cold. This bottle by S'Well keeps 25oz drinks cold all day and the wood finish bottle couldn't be cuter!! 
Munch on some water-dense fruits and vegetables
Try incorporating more watermelon, cucumber, peaches and celery into your diet in order to fight daily hydration.
Add ice to your favourite teas!
I use Skinny Teatox's Mint Teatox for a refreshing drink of a hot day. 
Try coconut water
Not only will you hydrate yourself but coconut water also has vitamins and electrolytes that will contribute to your overall health.
Use the app Waterlogged
It will help you keep track of your daily water intake. Using an app can turn your daily water into a fun game; the goal is to fill the meter before you go to bed. Challenge accepted! Download here. 
Use a straw
You'll find yourself emptying your glass sooner than expected.
Add natural juices or sparkling waters to spice up your water routine
I like to add a splash of pomegranate or cranberry juice to my water to make it enjoyably sweet.
Order water every time you go out to eat
Some sodas and sugar-filled beverages can actually cause you to dehydrate faster. Choose water as a safe and healthy alternative.
Hopefully these thirst-quenching tips have motivated you to bring out your inner aqua-holic and drink up. Life is simple. Just add water.