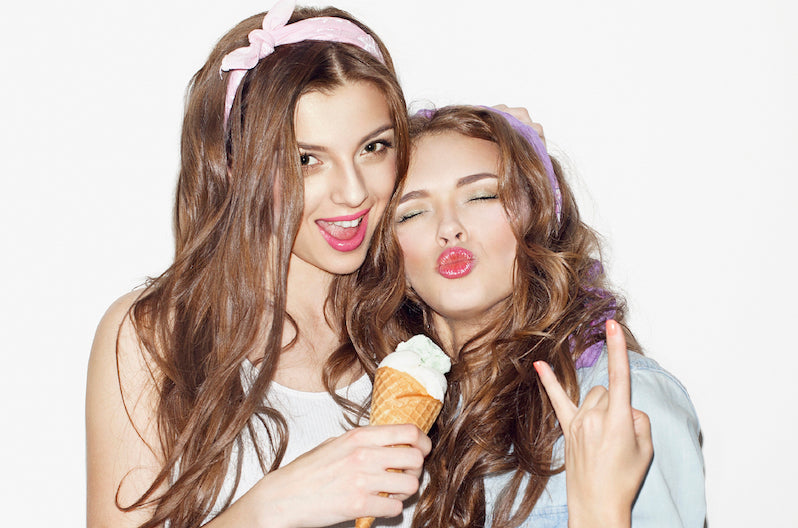 By: Bethany Barich (Follow on Instagram & Twitter)
If there's one treat that everyone craves over the summer, it's definitely ice cream. Sadly, majority of ice creams are unhealthy not just because of their calorie count but also because of how much sugar are in particular flavors and brands. They're unable to be eaten by some, too, due to the fact that ice cream is a dairy product.
Don't worry, though, a solution has been found through these 10 nice cream options. The list includes vegan, and dairy, options.
Dairy-Free Coffee Ice Cream 
First off, who doesn't love coffee? It's an amazing drink with a rich flavor. The way to make this ice cream "dairy free" is to replace regular milk with soy (or maybe even almond?). A recipe to try provided by The Wannabe Chef, says to use sugar. If you're impartial to doing so, try adding a zero calorie sweetener. The blog also says if you want to use flavored creamers to cut back on the amount of sugar you use. So if you find yourself craving some coffee, try making this ice cream instead! 
Strawberry-Banana Ice Cream
Talk about simple! This recipe provided by The Slow Roasted Italian, for a three ingredient (you heard that right) strawberry ice cream is super easy to make and looks delicious. All you need, literally, is frozen bananas and strawberries. This recipe calls for sugar too, but also gives the option of using Stevia. After that, all you need is a blender and delicious, homemade ice cream will be the result.
Banana-Blueberry Ice Cream
Keeping with the simple, three ingredient recipes, let's take a look at another yummy fruit flavored ice cream. Provided by The Pretty Bee, this recipe also only requires frozen fruit, sugar (or Stevia) and a blender. As someone who has made this before, I can say that it's a great flavor and makes for a nice guilt free snack!
Vegan Chocolate Ice Cream
What's more satisfying than chocolate ice cream on a summer day? Chocolate ice cream that's vegan free and 167 calories per serving! Thanks to POPSUGAR, this ice cream is a thing, and their recipe is super simple. Can you guess why? Because it's only two ingredients – all you need is some unsweetened cocoa powder and bananas! After that, just through them in the blender and freeze it a little bit. They offer the option of adding dairy-free chocolate chips, which just sounds delicious!
Vegan Mango Ice Cream
Not only does POPSUGAR give us that fantastic chocolate recipe, but they also have another recipe for a mango ice cream! They have it listed as being zero cholesterol and having no saturated fats. Plus, it's full of fiber and is only 150 calories per serving. Also like the other recipe, this only needs two ingredients – frozen mango chunks and bananas, and like the last, they give a recommendation of adding dark chocolate to it as a yummy topping.
Pistachio Ice Cream
This recipe provided by Unconventional Baker requires a few more ingredients than the previous ones, but I can only imagine how satisfying the taste is. This recipe is super beneficial and a great option because it's completely vegan, sugar free and even paleo friendly! When it's all finished, sprinkle some actual pistachios on top for a nice crunch.
Blueberry Ice Cream
The website Yummly has provided us with a simple and low calorie recipe for making blueberry ice cream. Obviously you'll need blueberries, then their recipes calls for a banana and adding some yogurt too. The recipe says that it's somewhere between 40-60 calories which is a big bonus too! Try this recipe out on a nice warm day when something sweet is craved.
Vegan Raspberry-Coconut Ice Cream
An ice cream that is both refreshing and delicious is a must have. Luckily for us the blog Two Peas & Their Pod gives us an adorable, four ingredient recipe to make a yummy raspberry and coconut ice cream. The blog's author, I believe, uses an ice cream maker, but don't worry a blender will work perfectly too. They also use a Thai coconut milk, but I'm sure that regular will do. Test out this recipe for the next time there's a nice day outside.
Vanilla Ice Cream
What type of article would this be, if there weren't at least one vanilla ice cream recipe? Taste of Home has a recipe for a low-fat, simple way of making it. If you've ever made homemade ice cream in a bag before as a child, the ingredients needed for this are just about the same as needed for those. So, maybe make this with friends or if children are around, with them. 
Mint Chocolate Chip Ice Cream
Now this wouldn't be an actual ice cream article if there weren't a mint chocolate chip ice cream recipe – so luckily we found one! The Balanced Berry has a quick and easy recipe that only requires the simplest of ingredients. Those ingredients would be bananas, spinach, peppermint extract and some milk and chocolate chips! If you want more of a mint taste, maybe try adding some sprigs of mint! This recipe is perfect for a day outside or on a rainy night.