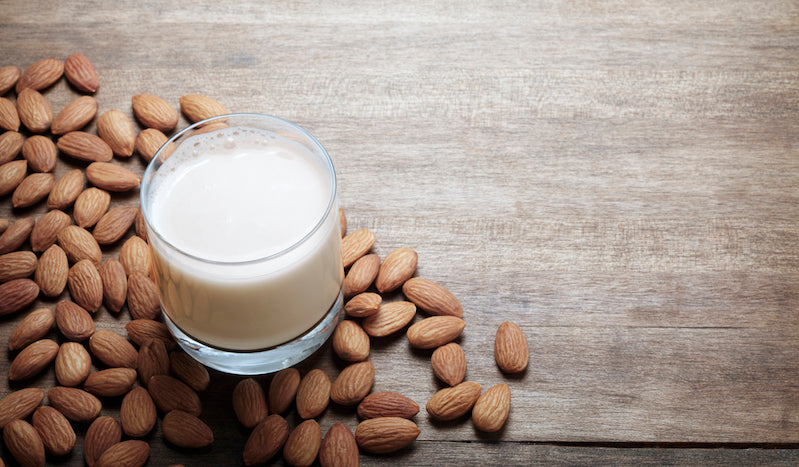 If you're lactose intolerant or beginning to cut dairy out of your diet, consider giving almond milk a try. Not only is it low in fat, but also since it's prepared with almonds the milk is high in energy, proteins, and fiber. It also contains minerals like potassium, sodium, zinc, and calcium.
Almond milk is also packed with vitamins making it an enriched dairy replacement, and is a solid ingredient to include in recipes.
If you're interested in learning how to make your own almond milk check out these two homemade recipes via "The Blender Girl," and "PopSugar."
If the idea of making your own almond milk isn't interesting, make sure to pickup any Silk options, 365 options, and Almond Breeze. Then, come back to this article so you can start preparing some of the recipes listed below – perfect for any meal, including dessert.
BREAKFAST
Don't shy away from the Almond Breeze website because they offer loads of yummy breakfast ingredients. This Vegan Almond Blueberry Pancake recipe is perfect for any family breakfast gathering or a cute breakfast idea for couples. Another option they give is an Almond French Toast recipe, which can be topped with sliced almonds or if you're feeling frisky, mixed berries. If you know that you're limited to time in the morning, fear not because they offer a delicious Oatmeal & Apple Breakfast Bar recipe too! Make these the night before, and you'll be set for a quick breakfast for the rest of the week.
LUNCH
iFoodReal gives this deliciously healthy recipe for a Zucchini Mac & Cheese that doesn't necessarily call for almond milk – but using almond milk in recipes is a way to make things creamier. Feastie gives us a fruity take on pizza with their Gluten & Oil Free Fruit Pizza idea – don't be afraid to add different types of fruits to it either! Want something hot? Check out these recipes courtesy of Almond Breeze –a Black Bean Soup, and a creamy spin on the classic Broccoli & Cheese Soup.
DINNER
The Adventure Bite whips up a delicious Almond Milk Chicken recipe, that is perfect for dinner. Two delicious pasta recipes, courtesy of Feastie, include this Creamy Garlic Roasted Red Pepper Pasta, and this Creamy Roasted Butternut Squash Pasta. If you need something spicy, check out this recipe from Detoxinsta – a Vegetable Curry
DESSERTS & SNACK
A Beautiful Mess gives us this creamy dairy free recipe for Chocolate Pudding – they end up pairing it with fruits like raspberries and strawberries, which will be delicious. Another fruit to consider putting with it would be pineapple, or bananas, or even apples! Pass The Sushi gives us an option for those hot days during the summer, or if you live somewhere where there isn't really a winter  - check these PB Banana Pops. Baked Bree takes a cue from Almond Breeze and supplies us with another pudding recipe – Vegan Rice Pudding.
So next time you're at the grocery store, consider picking up some almond milk and giving it a chance. Not only can you make these delicious recipes, but you can experience some major health benefits!