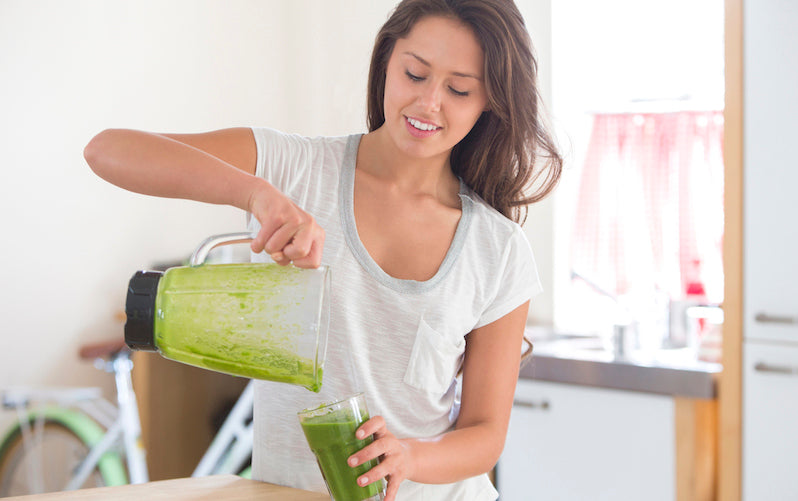 Smoothies are fun to make in lots of different flavors with lots of different ingredients. 
You can make them seasonal and festive, or simple and plain. 
You can change it up, or just find your favourite kind and make that on the regular. 
But with all the possibilities, it's easy to get carried away and add in unnecessary ingredients or include options that don't have an optimal health profile. 
Entering into 2018, change up your smoothies and think about leaving these ingredients off of your smoothie list:
Fruit juice – To make your smoothie liquid enough to blend, opt for water, coconut water or a plant based milk option such as almond milk or coconut milk.

 

Coconut water helps rebalance electrolytes, especially when using the smoothie as a post-workout meal, while nut milks are a great source of protein and healthy fats.

 

Fruit juice is calorie and sugar dense, offering minimal nutrition content for the amount of calories it contains.
Frozen yogurt – If you are creating your smoothie as a healthy meal option, adding frozen yogurt, unfortunately, turns it into more of a dessert than a nutrition packed meal.

 

Frozen yogurt is typically high in sugar and may have unhealthy ingredients added in to help make it creamy, and prevent it from being icy.

 

Instead of frozen yogurt, encourage added creaminess in your smoothie by adding natural coconut cream or avocado.

 

You can make it resemble more of a creamy, ice cream consistency by adding frozen banana in with some coconut milk when you blend it.

 

This forms the infamous "nice cream" you may have read about!
Canned fruit – You should be aiming to have at least half of the ingredients in your smoothie to be vegetables as opposed to fruit, including things such as spinach, zucchini, cauliflower, sweet potatoes and frozen peas.

 

For the fruit that you do add, opt for fresh or frozen unsweetened fruit including strawberries and blueberries.

 

Canned fruit is typically packed in sugar or syrup, and in the processing often loses a great deal of nutritional value due to the removal of the skin and the longer cooking time. 
Added sweetener – As much as possible, aim to sweeten your smoothie with natural ingredients such as the fruit you are adding, Lucuma powder, mesquite powder, cinnamon and vanilla.

 

Dates also make a great sweetener - just make sure to soak them first to allow proper blending.

 

If you are going to add a sweetener, opt for something such as honey, maple syrup or monk fruit extract as opposed to sugar or syrups.
Sweetened protein powders – While protein powders have their place in the composition of a healthy smoothie, be sure to select your powder wisely.

 

Certain powders have added sugar, or are processed and made with processed ingredients.

 

Opt for all natural whey protein powder or plant based protein powders made with options such as hemp protein, pea protein or pumpkin seed protein.

 

These plant protein options, when combined in a blend, offer a complete protein profile without unnecessary ingredients and for many individuals, are more gut friendly and easier to digest than others. 
Here are 5 ingredients you SHOULD put in your healthy smoothies!