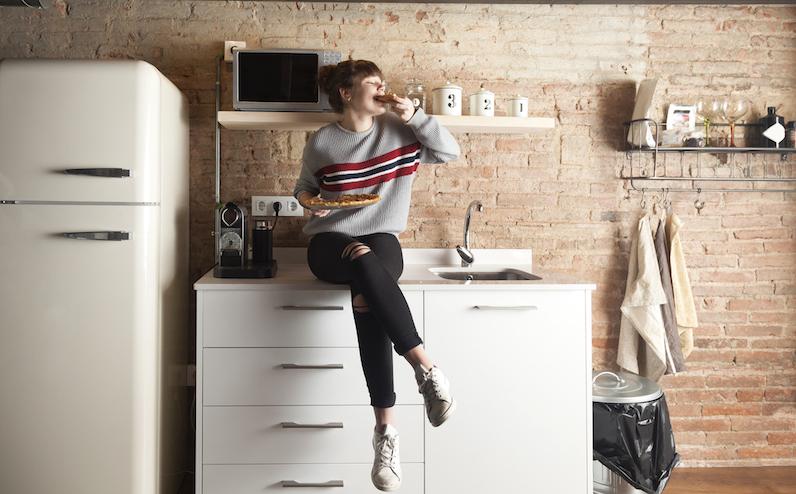 From toppings to crust to sauce, there's a lot about a pizza that you can change.
And while pizza may regularly get a bad rap as being an unhealthy food, or one that should be reserved only for special occasions and indulgence, when done right, this is definitely not the case. 
In fact, it can be a regular part of a healthy lifestyle and indeed even part of your weight loss plans! 
Read more to find out how to make some swaps and choose some alternatives to up the health game of this dinner favourite.
1. Crust
From cauliflower crust to gluten free, to mixing in veggies, the days of plain standard pizza crusts are behind us and instead we can focus on the added health benefits of changing it up.  If you are looking to increase the vegetable content and decrease carbohydrates when it comes to pizza night, opt to make your crust from cauliflower, sweet potato puree or shredded zucchini. You can also increase the health benefits by using flour alternatives such as almond meal, lupin flakes, teff flour or oat flour. 
2. Sauce
Traditional store-bought pizza sauce can be high in sodium, and in some cases have added unwanted ingredients such as oil or cheese.  You can make traditional sauce yourself using tomato paste, herbs, salt and some water to thin it down, or you can try a different sauce option. Hummus is a great alternative that allows you a protein and fibre boost, while a homemade, oil-free pesto can be a big flavour boost and a nice way to increase your intake of greens! 
3. Toppings
The main star of the show, selecting different toppings is where you can really have an impact on the health value of your pizza. Traditional toppings such as cheese and meat are high in calories and offer minimal nutritional value.  Instead, opt for an all veggie pizza, including everything from peppers to eggplant to zucchini to mushrooms.  Add fresh tomato or a few olives for a flavour boost, and don't forget how delicious fresh herbs can be – such as basil or rosemary.  If you are keen to avoid cheese, sprinkle with nutritional yeast, or drizzle with balsamic vinegar when it comes out of the oven.  Both of these add a lot of flavour and nutritional value, without the added calories and fat.
4. Size
Finally, don't underestimate the portion size of your pizza.  Indeed most store-bought pizzas designed for one, are quite oversized, giving you a way higher calorie intake than you bargained for or may have realized.  If you are going to stick with traditional pizza options, try to cut down on the portion size to stay in line with your weight loss goals.  If you are swapping things up and making it all veggies with cauliflower crust however, you have the added bonus of being able to have a little bit of a larger size portion, and not worry about the larger size of fat intake associated with regular pizza.
Don't assume that getting serious about your weight loss goals mean saying good bye to pizza.  Instead, it just means getting serious about how you make your pizza!
By: Laura Peill, RHN, BScH –  Viand Nutrition