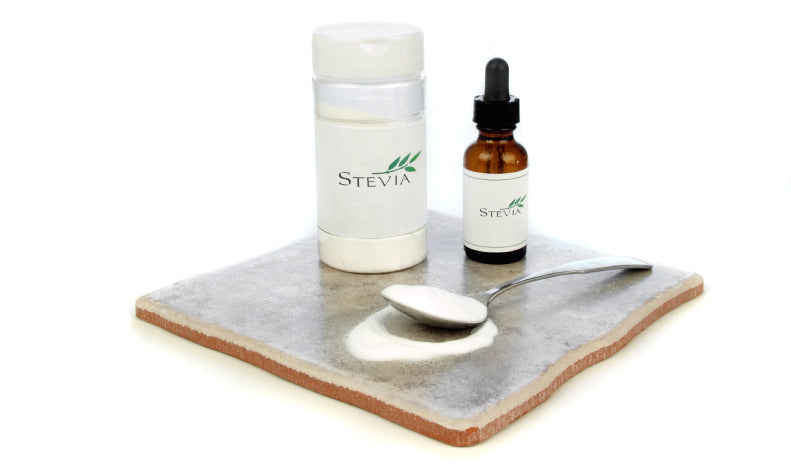 By: Nadine Elias
In these days we normally try to avoid sugar. We are more conscious about our body and sugars negative effects, but lets be honest, we sometimes have a little sweet tooth. So in this post, you can find all about a natural sweetener called Stevia. You will be amazed by this natural sweetener since among its benefits it is 100% natural, has health benefits and adds 0 calories! 
What is Stevia?
Stevia or by its scientific name Stevia Rebaudiana, is a plant (herb) in the Asteraceae family, and grows naturally in Brazil, Paraguay and much of South America. It has been used for many years by native tribes in Paraguay, as a natural sweetener. 
Stevia is 200 or 300 times sweater than sugar and it doesn't alter glucose levels and they contain 0 calories.
In Japan it has been used for quite some time now to naturally sweeten: bubble gum, sweets, drinks, and sauces.
It's completely safe to use and it has been proven that it does not have any significant side effects. In 2008, the FDA declared that Stevia was safe in foods and beverages. It is even safe for Diabetics, pregnant women, and young infants to consume. 
23 Benefits of Stevia
It is a powerful antioxidant: 7 times more than green tee!

Bactericide.

Prevents tooth cavities.

Combats certain fungi.

Helps absorb fat.

Promotes proper digestion.

Reduces fatigue and anxiety.

Helps scar and it is bactericide when used on the skin.

Helps in weight management.

Stevia on cuts and wound relieves the pain.

Lowers blood pressure.

Lowers blood sugar.

Helps suppress cravings.

Regulates Hypertension.

Since it is sweeter than sugar you need a less amount to cook.

It is safe to use in moderation.

Vitamin B3.

Potassium.

Zinc.

Magnesium.

It is 10.77% fiber, which aids with

constipation

.

Cooling effect on skin.

Tightens the skin aids in wrinkles.

 
How to Enjoy Stevia?
You should really check the brand of stevia you are about to purchase; since there have been companies that combine stevia and sugar additives, which do increase glucose levels because of the sugar additive. There are vegan brands that do not contain other additives, and its only the stevia leaf, dry or in powder. You can also consume the natural leaf plant. One tablespoon of stevia is equivalent approximately to one cup of sugar (In most brands). It is really sweet!
First, choose the type of Stevia you're going to use: 
Powder: Super sweet normal taste.
Dry Leaf: Super sweet normal taste.
Liquid: Added alcohol sometimes, so consider how that may change the flavour. 
Natural Leaf: Sweet, natural leafy fresh taste. 

Now, start considering all the different uses: 
Baking

Tea Infusions.

Beverages

Yogurt

Natural sweet substitute for cooking.
Here's my favourite recipe to get you started! 
Stevia Chocolate Truffles (30-40 truffles depending on size)
1 Tablespoon Coconut Oil

1/3 Cup Cocoa Powder

5 bars Bittersweet Chocolate or Dark chocolate 90% cocoa, or not sweetened chocolate if you can find one without sugar.

1 Egg yolks

1 Cup Coconut Milk (for cooking, without sugar).

3 teaspoon Stevia dry leaf
Instructions:
Heat Coconut Milk.

Break chocolate bars into pieces and put in a glass container.

Pour the Coconut Milk into Glass container over chocolate.

Let it sit, chocolate starts to melt.

Add Coconut Oil.

Add Egg yolk.

Add Stevia.

Mix all ingredients.

About: 15 minutes to prepare.
Let it cool.
Put in refrigerator for 2 hours.
Make little balls.
Cover them in Cocoa Powder.
Step By Step Pictures
Enjoy! This is the first time I make them, please let me know what you think, I absolutely loved the flavor! 
I hope this information helps you to cook delicious desserts, and create your own healthy sweet desserts! Or if you are like me and do get a lot of sugar cravings to help you incorporate Stevia into your daily lifestyle as a natural sweetener. Thank you!